Should I get a home inspection in the Huntsville, Alabama area? YES! The most important thing to know is that Alabama is a caveat emptor state, more commonly referred to as a buyer beware state. Under caveat emptor, a buyer cannot recover damages from a seller for property defects if the property is unfit for use. The only exception occurs if a seller actively seeks to withhold or conceal information prior to the sale, amounting to fraud. And this can be very difficult to prove in a court of law.

It is the buyer's responsibility almost exclusively to uncover defects of the property that may affect your willingness to purchase. Why risk it?
Alabama does not provide sellers' disclosures in general.  A seller's disclosure is a form that typically has questions about the property and the condition of each component.  The sellers fill this out and sign. In many states, they are liable if defects are not disclosed.  Sellers in the state of Alabama are not required to provide these to purchasers.  Again, buyer beware!
It is imperative that buyers NEVER relinquish their rights to a home inspection on the contract. Once you check the box that opts out of an inspection, you do not legally have the right to do so, according to the contract.  Go ahead and check the box stating you will get the inspection and attach the inspection addendum. If you have a change of heart and decide you do wish to proceed with a home inspection, you will have the right as long as you are still in your inspection period.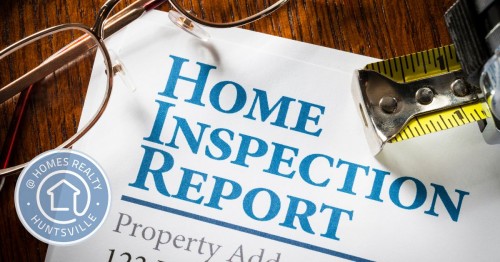 Our advice is to have the property inspected fully. A standard home inspection should check all of the components of the home. Roof, HVAC, electrical, windows, structural, etc. They don't include septic and radon inspections as standard.  If your soon-to-be home is on a septic system, get it inspected!  Far too often we hear that a septic inspection is not necessary. We strongly disagree. Radon is another test that you may wish to seriously consider.  Radon can be found in several areas here in North Alabama.
The inspection addendum clearly states conditions under which a buyer may request repairs and what is considered necessary for sellers to repair/replace, etc.  There are many factors that buyers will face with a home purchase. A home inspection is one of the most important!
If you would like a list of inspectors that our clients are happy with, let us know!  Be sure to google each inspector and read their reviews.  Not all inspectors are the same!
{ Comments on this entry are closed }