Huntsville, Alabama 4th Quarter Real Estate Market Report

A pandemic and record home sales. Who would have thought those would be used in the same sentence! Honestly, who would have thought that we would ever be experiencing a pandemic? Thankfully, as of today's writing, our covid numbers have been steadily decreasing.
A positive bookend to an unprecedented year, the end of 2020 mirrored the way that it began: with the Madison County real estate market the strongest we've ever witnessed. Housing demand was not only strong throughout Covid but continued (and still continues) to pick up speed.
Our Huntsville, Alabama 4th quarter real estate market report shows the strength of our market and the significant lack of inventory we are currently experiencing.  As we look back at the 4th quarter, you'll notice sales climbed, days on market increased and overall sale prices have increased. Demand continues to contribute to the shortage of inventory and rising home prices. With a sharp increase in construction supplies, we have experienced major price increases across most of North Alabama. New construction homes have been hit hardest with price increases.
Total Madison County residential home sales in the 4th quarter of 202o rose to 2435, an increase of 22% above the 2019 4th quarter sales of 1995. Over the 5 year average, we've experienced an increase of 32%.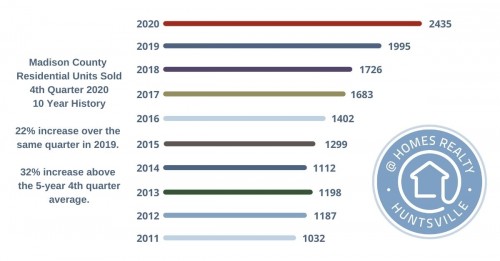 The 2020 4th quarter median sale price rose nearly $10,000 over the 4th quarter in 2019. The median sale price was $249,328 compared to $239,643 from the same quarter in 2019. Every month in 2020 saw a price increase over the previous year.
The average number of days on market for 2020 was only 20, versus 35 in 2019. Over a 10 year period, the highest was 124 days on market in 2014.  Days on market is typically a good indicator of our local real estate market's strength.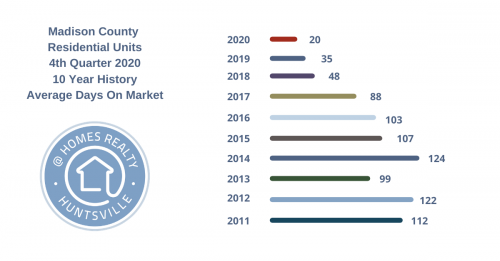 Interest rates remain at all-time lows and we see no signs of a market slow down. We are entering 2021 with a firm foundation. With an ever-expanding workforce and new job opportunities moving to North Alabama, we feel the market should remain strong for the next few years.
The overall Huntsville real estate market has never been stronger. Multiple offers and Huntsville homebuyers paying over list price are commonplace in most areas and several price ranges.
If you'd like to discuss placing your home on the market, feel free to give us a call or send me an email. We'd love to share our expertise with you.
We are busy preparing our 2020 year-end Huntsville real estate market report.  We will also share our predictions for the future of our market. Be on the lookout!
Analysis Conducted by UAH: Brinda Mahalingam, Ph.D., Economist Jeff Thompson, Project Director Karen Yarbrough, Editor