Alabama a Buyer Beware State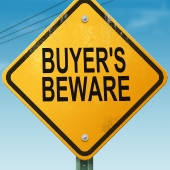 If you are new to the Huntsville Alabama Real Estate market, hopefully, you are already aware that Alabama is a "Buyer Beware" State. The legal term that describes this type of market is Caveat Emptor, which is a Latin phrase meaning 'let the buyer beware'. To Alabama home buyers this phrase serves as a warning and notifies them that they are responsible for discovering any defects the home may have.
Since the advent of more recent legal precedents such as those involved with 'Implied Warranty' many states have legislated a move away from 'Buyer Beware' to Caveat Venditor (i.e. let the seller beware) and require home sellers to make a legal disclosure, documenting all known defects of their home. However, it is important to remember that this is not a legal requirement in the state of Alabama.
Disclosure of Property Defects
Since seller disclosures are not a legal requirement in our state, it is important that home buyers take a few basic steps to provide themselves this protection within their own purchase offer and make their contract contingent upon acceptable results:
Request a seller disclosure statement that puts the seller on record of known defects (A strong sellers agent will advise sellers not to provide this. They are not legally required to do so and their refusal to provide one does not mean they are hiding defects.)
Have the home inspected by a professional home inspector for an independent report and all other necessary inspections (septic, radon, structural if needed, etc.)
When an HOA is involved formally request a copy of their Convents & Restrictions
Use a qualified 'Buyer's Agent' that has fiduciary duties to protect your interests
Disclosure of HOA Convents and Restrictions
While a few surrounding states (e.g. Florida & Virginia) do require that Home Owner Association (HOA) convents and restrictions be disclosed to buyers, there is no such law in the state of Alabama. Thus this is something you will want to accomplish through your contact contingencies, and this is even more applicable during economic downturns and when your subdivision of interest is a new neighborhood with new construction ongoing.
If you would like more information on protecting your interests during the home buying process, we can help.  Email or give me us call at 256-585-6000.
Elizabeth