Zillow Zestimates Huntsville Alabama
As Huntsville real estate agents, we disprove Zestimates on a daily basis with buyers and sellers.  Huntsville home buyers and sellers routinely quote Zestimates as a gauge of market value.  A Zestimate is just that…an estimate.  And rarely correct.  Rarely!
What IS a Zillow Zestimate?  According to their website, "The Zestimate® home valuation is an estimated market value, computed using a proprietary formula." This information is based on public and user submitted data, both of which can vary greatly in accuracy. No algorithm can quantify the value of a home!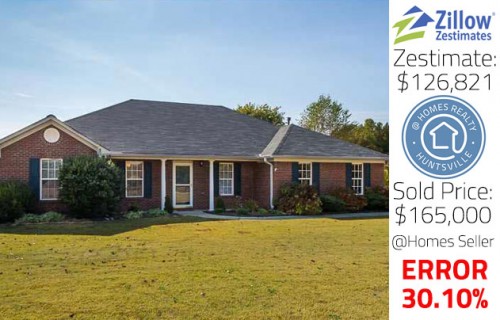 Just how inaccurate is a Zillow Zestimate in Huntsville?  According to Zillow statistics, it's alot.  The Madison County real estate zestimates have a median error rate of 9.2%.* That's a HUGE difference.   Without actually walking through a property, and using local data to sift through sales information, there is no way to attain a decent level of accuracy.  School districts, condition of the home, location of the home inside the subdivision all matter when predicting a homes value.  Neighborhood activity matters. It just isn't possible for any AVM to value of a home with accuracy sufficient to make a housing decision, whether buying a home in Huntsville or selling.  It is essential to have a comparative market analysis!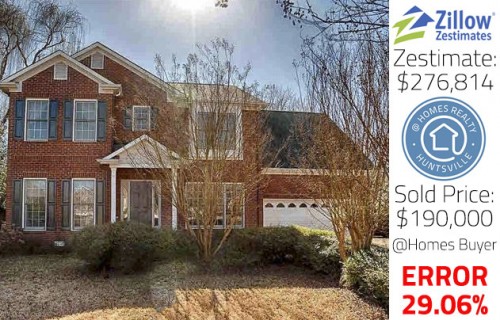 We aren't "Zillow haters". In fact, I believe they have created something pretty amazing. Love the clean look of their site.  Love their mobile app and love their commercials 🙂 I have friends that work for Zillow.  Does this mean I love their Zestimates?  Uh…NO.  Zillow DOES excel in their data collection of past ownership of the home and what the owner paid.  I see that as a true value add to a buyer.  As real estate agents, we know that one of our most complicated and important tasks is pricing the home, whether we are supplying the data to a buyer or seller.  The Huntsville real estate market changes from week to week and is very neighborhood centric.  Huntsville real estate market conditions have a tremendous play in valuing a home.  We will keep you informed monthly on housing conditions in the Huntsville area.
Pricing a home properly is an art and science all rolled into one. It is not accomplished by trusting a computer generated value whether it is Zillow or some other online valuation tool. If you want an accurate value of your home always consult with a local Huntsville real estate professional or competent appraiser.  
*Click here to download an Excel spreadsheet of the accuracy data from Zillow.