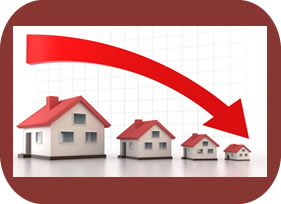 2014 Market Continues Slowdown
As we identified and published in our 1st Quarter market update, 2014 is off with a slower sales pace when compared with 2013. The 2nd Quarter saw some improvement (-7% to -5%) but the slower pace continues.
Unit Home Sales Down 5% Year-To-Date
Single family home sales in Madison County dropped -5% to 2195 closings in 2014, compared to the 2312 transactions recorded during the same period of 2013. Since we are doing a quarterly analysis we aren't the first market observers to report a slow start to the year: Huntsville Real Estate Off To Slow Spring Start.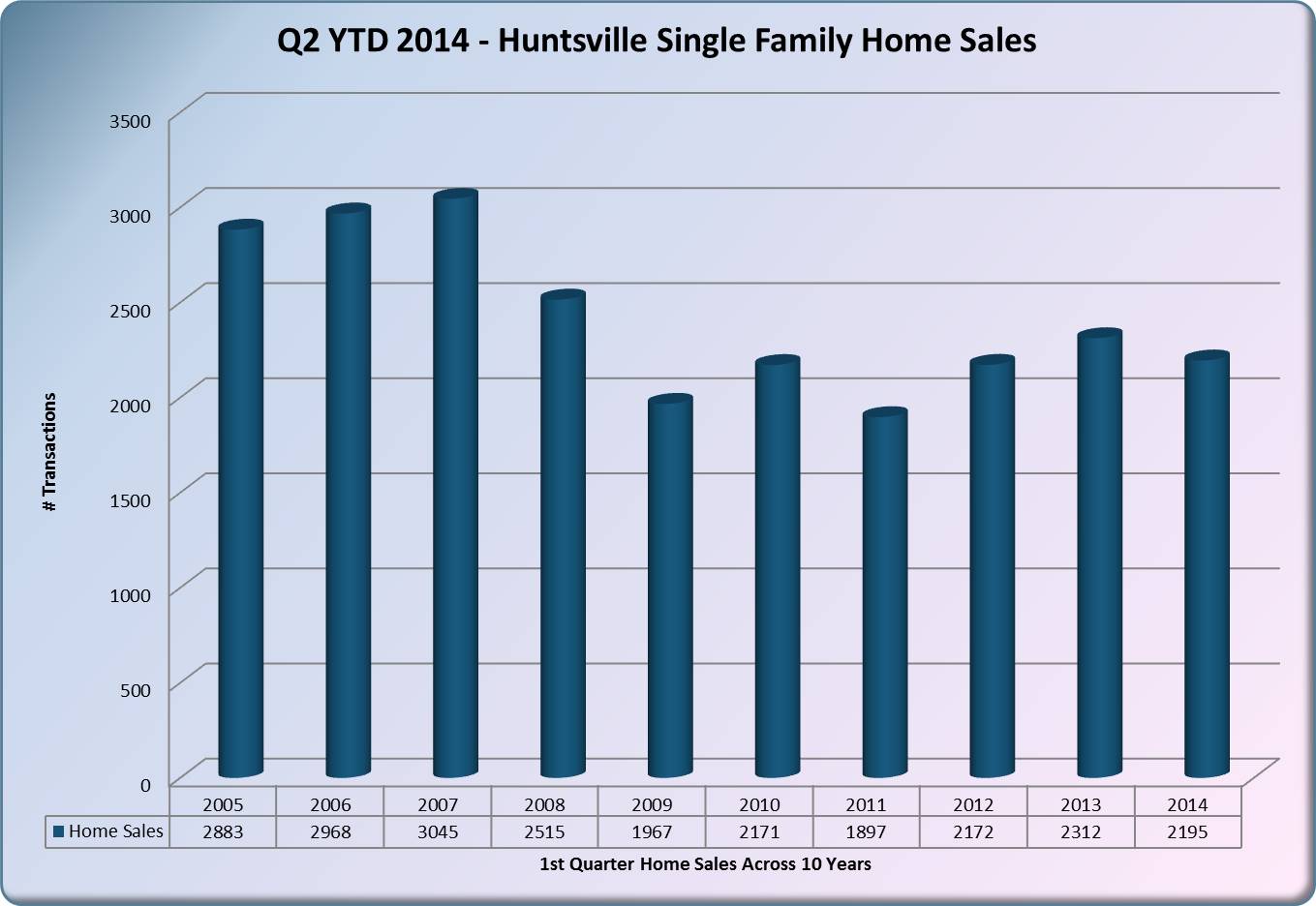 Overall Market
While our Madison county statistics continue to indicate a local moderate slowdown, the picture across the entire MLS area is a bit better. A Year-To-Date transaction report on the entire MLS area this morning revealed a decrease of -1.5% in home sales as compared with 2013.
Inventory and Days-On-Market
Overall unit inventory for the period increased 2%, from an average of 3165 homes in 2013 to an average of 3221 units of inventory for 2014.  This slightly higher inventory along with the slower sales pace is clearly reflected in the chart below, where the months of supply has increased from 8 months in 2013 to a now 10 months of supply at the mid 2014 time-frame.
Days-On-Market also ticked higher by 11% indicating that it took longer to sell homes during the first half of year than in the previous year. Thus these inventories numbers are currently a trend in the wrong direction.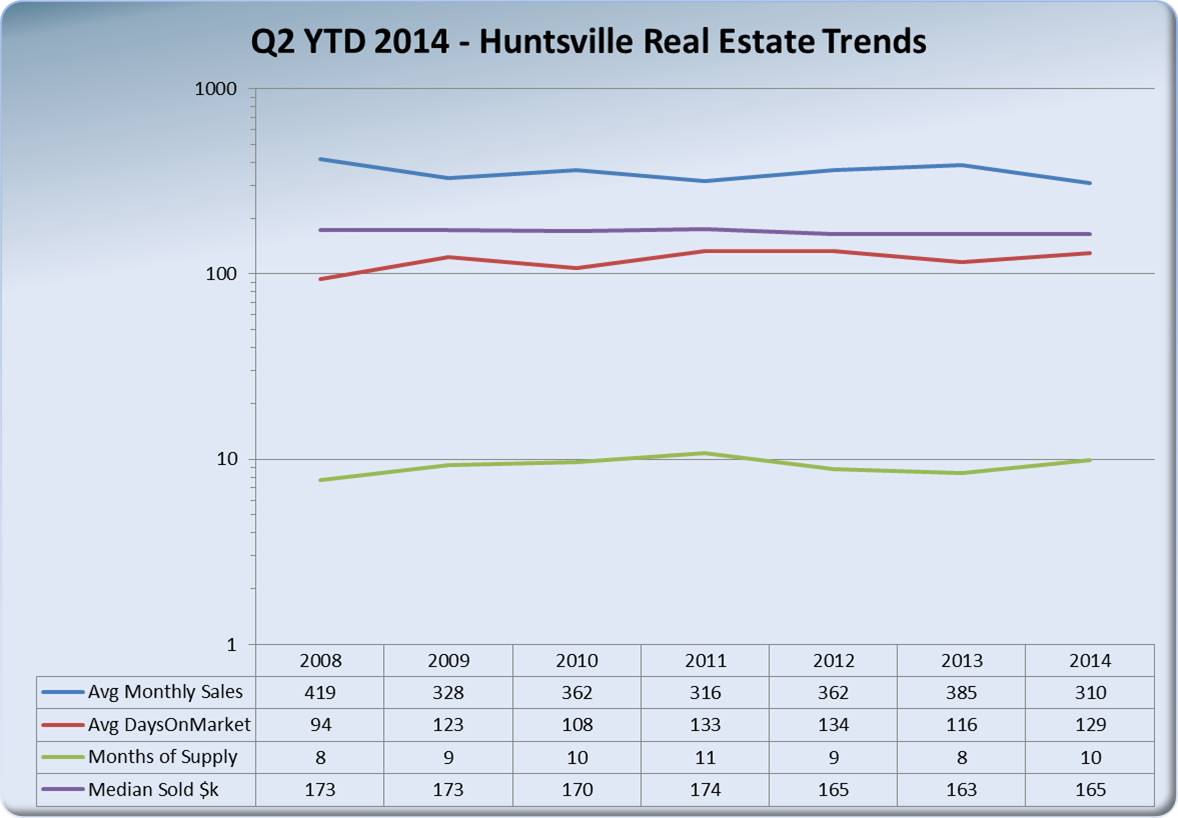 Huntsville Median Home Prices
On a bright point Huntsville median home price increased 1.2% from $163K in 2013 to $165k in 2014. However with relatively flat sales prices over the last 2 years, it is too early to draw any conclusions.
The Huntsville Home Price Trend on the other hand can be clearly seen in the chart below. Prior to 2012 median homes prices were trending approximately 4% higher than they have during 2012 – 2014. Thus there was a clear reduction in local home prices that occurred in 2012 and they have hovered in this lower price range for the last 2 1/5 years.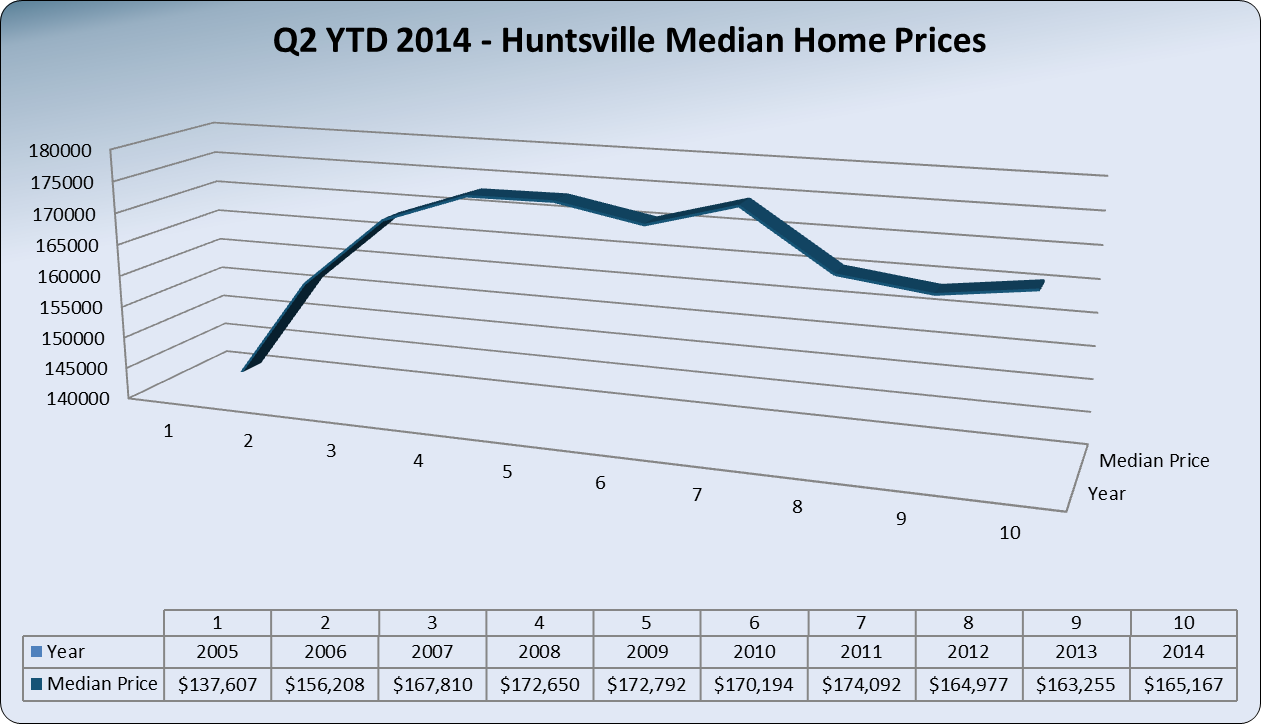 Overall Market Prognosis
While the start of 2014 came in with a whimper, the 2nd Quarter is showing promise. The ACRE forecast is predicting a relatively flat year for home sales in the Huntsville area, however we would have to sum it up truthfully as; The Jury is Still Out.
Stay tuned we are sure to keep you updated as the year progresses.
- Elizabeth