Well yea!  Local new Foreclosure activity is showing a very nice downward trend in the Huntsville Alabama area and over the last 3 consecutive months as well.  Here is hoping this trend continues throughout the next year!
New foreclosure activity includes default notices, auction notices, or bank repossessions.  The activity peaked this past February 2010 at 175 new foreclosures and the rate has come down dramatically over the last 3 months to only 100 new notices for July 2010, representing a -43% decline in foreclosure activity.
View All:  Foreclosures in Huntsville, AL
View All: Foreclosures in Madison, AL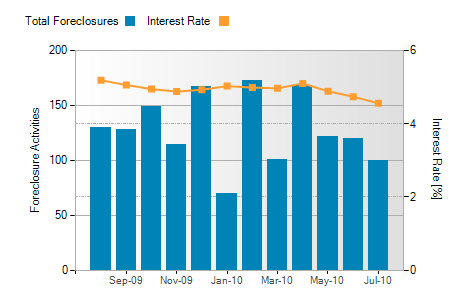 One thing to keep in mind is that regardless of your location preference or price range there may be interesting foreclosure properties to view and we make it easy for you to isolate these homes exactly meeting your search criteria. From our Main Search Menu just input your filter criteria and then check the Foreclosure Only box at the bottom prior to executing the search.
Also don't forget you can save all of your detailed searches as One Click Searches that are so easy to execute anytime you return to the site. Heck optionally on a per saved search basis you can set up notifications to let you know that new or price reductions have occurred within that particular search results. Turn some on and leave others off, its all up to you.

Find one you would like to take a closer look at?  No problem email me or give me a call 256-425-1659 and off we'll go.
- Elizabeth