The Preserve at Limestone Creek, a brand new Huntsville Neighborhood with 771 home-sites planned, is to begin development construction very soon.  A subdivision of this size is a huge undertaking by any measure of the word, and should be interesting to watch as it progresses.
According to the Huntsville Times, the city's subdivision approval panel has given its initial authorization this morning for development of the first 27 home-sites of the new neighborhood.
View: Preserve at Limestone Creek Homes for Sale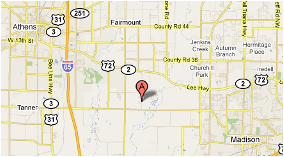 The development will be located on 585 acres between Madison / Athens Alabama off of Gray Road. What is unique about this Limestone County subdivision is that this parcel was annexed by Huntsville in 2008, and thus supported by the Huntsville City School System via Providence Elementary / Middle Schools and Columbia High School.
The developer, Ray Mahaffey, told the Times that, "he has already lined up Norfolk Homes to build the first homes expected to sell within the $225k – $300k price range".
Some of you close to the Huntsville Real Estate market will know of Norfolk Homes from their previous building in the McMullen Cove, MidTowne on the Park, and Chase Springs neighborhoods. The Preserve at Limestone Creek is named for the waterway that curves throughout the property and will also be progressively developed since the homes will be pre-sold prior to construction.
Stay Tuned,
– Kathy