March 2009 – The Trend Continues
There should be no surprise for regular readers, that the Huntsville Real Estate sales market continues to level off some 23% below 2008 levels. The low point of the unit sales market was reached in December 2008 and has since risen slightly and stabilized as illustrated in the accompanied chart.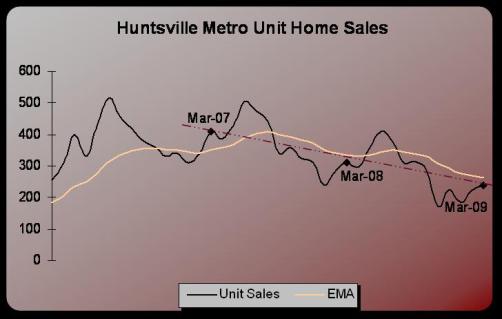 Market Summary
Our chart reflects a three year history of unit sales along with its current trend lines. Another way of looking at the unit sales measurement is to consider a synonym i.e., the number of closings per month.  When comparing March unit sales statistics year-over-year we see a decline of -23%, which is actually an improvement upon the ~30 -35% levels we have measured on a number of months since since October of 2007.
The unit sales or number of closings statistic accurately reflects transactions in the market and it is unambiguous and easily measured. However it does not present a complete picture of current market conditions. The true measurement of any business endeavor, regardless of market or product, is revenue generated.
Using the same March year-over-year comparison and gross revenues, we find that sale proceeds in our market have declined -38.9% from $71,040,595 in March of 2008 to $43,391,428 in 2009. This figure more accurately reflects the impact of the lingering housing crisis on our local industry and businesses, as these statistics indicate that while local businesses may be closing 23% less transactions, they are grossing 39% less in revenue, of course this is very much an on average figure.
Market Outlook
Well no crystal ball here because the recovery of our local Real Estate Market is tightly bound to the nation's current recession and economic recovery efforts. There are some bright spots and things do seem to be be leveling off perhaps even bottoming.
However there is currently a very different mix of homes being sold when compared to the last few years. Many more lower priced starter homes are now being sold, inventory is tight and prices are appreciating. While the luxury end market of over $400k has seemed to come to a complete stand still, inventory is plentiful and prices are soft. Thus this certainly explains why we see the wide divergence between the number of transactions and gross revenue generation detailed above.
We as always will keep you posted as things develop so stay tuned by subscribing to our feed.