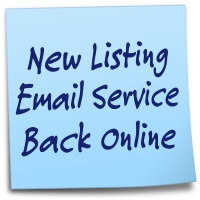 First of all we would like to thank all of our visitors; our clients, Huntsville Real Estate Blog subscribers, as well as our regular and occasional visitors! We have been so pleased with the response we have received from our new website www.NorthernAlabamaHomes.com over the last 3 months. Our traffic is growing rapidly and the positive email comments that we have received from clients and visitors alike have exceeded all of our initial expectations.
Our decision to be the first public website to utilize the North Alabama Multiple Listing Service (NALMLS) Real Estate Transaction Standard (RETS) feed, while I admit at first was very painful, is beginning to reap the promised benefits of the new technology and thus improving the quality of our online information and user experience. If you are a regular visitor you have likely seen the improvement in the data presentation of our detailed listing pages.
One of the benefits RETS brings is the ability to do near real-time database updates. These updates only query changes since the previous update and take limited computer resources. With RETS, there is no need to download the entire MLS database in the wee hours of the morning. We initially tested updates once a day, but recently we have been successfully synchronizing with the MLS database multiple times a day. These updates are run in the background and do not affect site performance and take as little as a few seconds to a minute or two depending on how many new, sold, and updated listing have entered the MLS.
We are seeing as many as ~200-400 listings that change status; new, deleted, or modified during a typical business day. Our original New Listing Email Service was designed to send a single email for each new listing. This really became untenable as some registered users with broad search criteria were receiving several emails per day. Consequently we disabled the service while going through a redesign and implementation.
We have now completed this development effort and the New Listing Email Service is back online. Registered users can name and save their favorite detailed searches and 'optionally' request a single HTML email when any new listings matching their criteria become active. This service now provides at most a single daily email, with clickable links to the new listings, no matter how broad your search criteria. Of course narrower search criteria will result in fewer email notifications.
The New Listing Email Service like our monthly newsletter service is completely optional. You may register, save your favorite searches and individual properties for easy recall and still opt out of any email notification whatsoever. You can even selectively enable email notification on just one or a few specific searches. Registration requires only a username, password, and valid email address; you will never receive unsolicited email for any of our websites.
Thanks Again and Enjoy the Site,
Tim
Webmaster