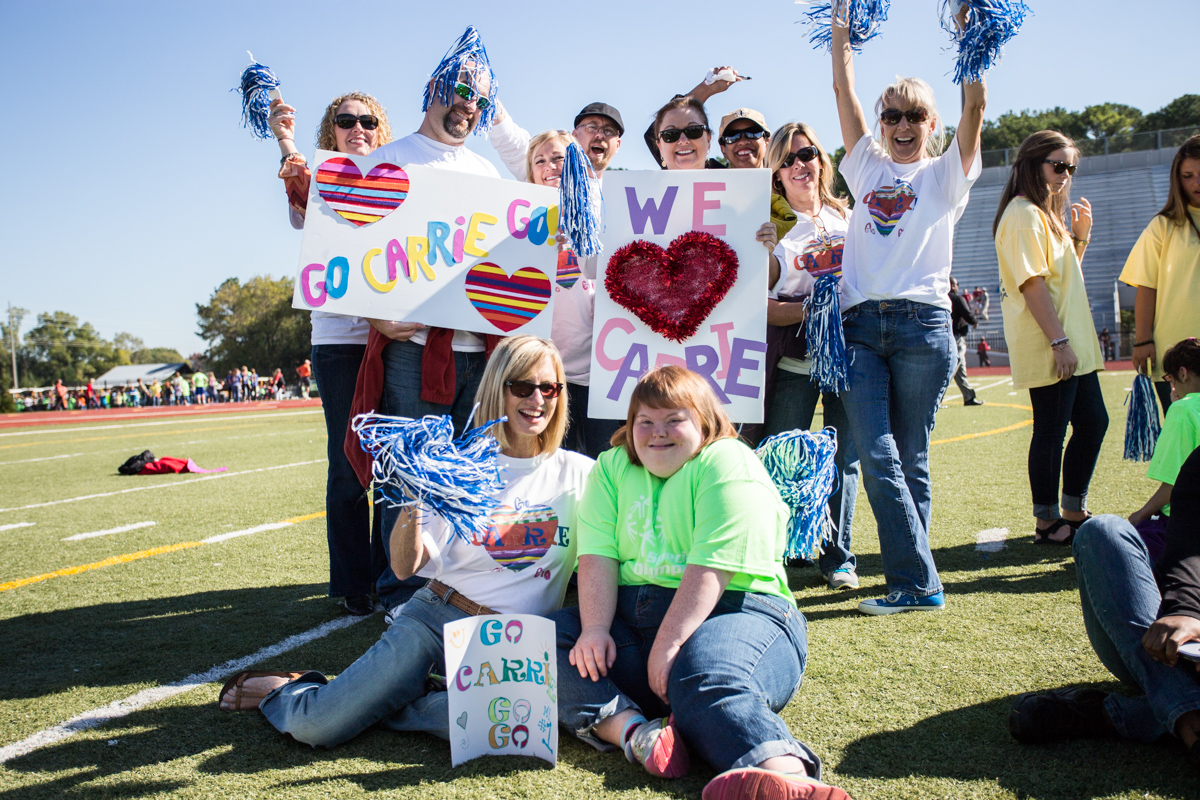 School buses lining the parking lot with no end in sight, we drove further and further back into the parking lot at Milton Frank Stadium for this years 2014 Huntsville Special Olympics. As we headed to the field it was apparent that we weren't the only ones excited for our favorite olympian. Families, friends and teachers gathered to support their athletes of all ages, from 8 to 65!
The @Homes crew gathered to cheer on our favorite olympian, Carrie Gore. Carrie is the daughter of our own Kathy Gore, a Realtor here with @Homes. When she spotted us her smile became immediately contagious. We all shared in the excitement to be able to cheer her on! After watching several competitors take the field and give it their all, it was fast approaching the time for Carrie to run. When asked if she needed to do any stretching to get ready for the big event, she quickly replied that she did NOT need to stretch. She was ready!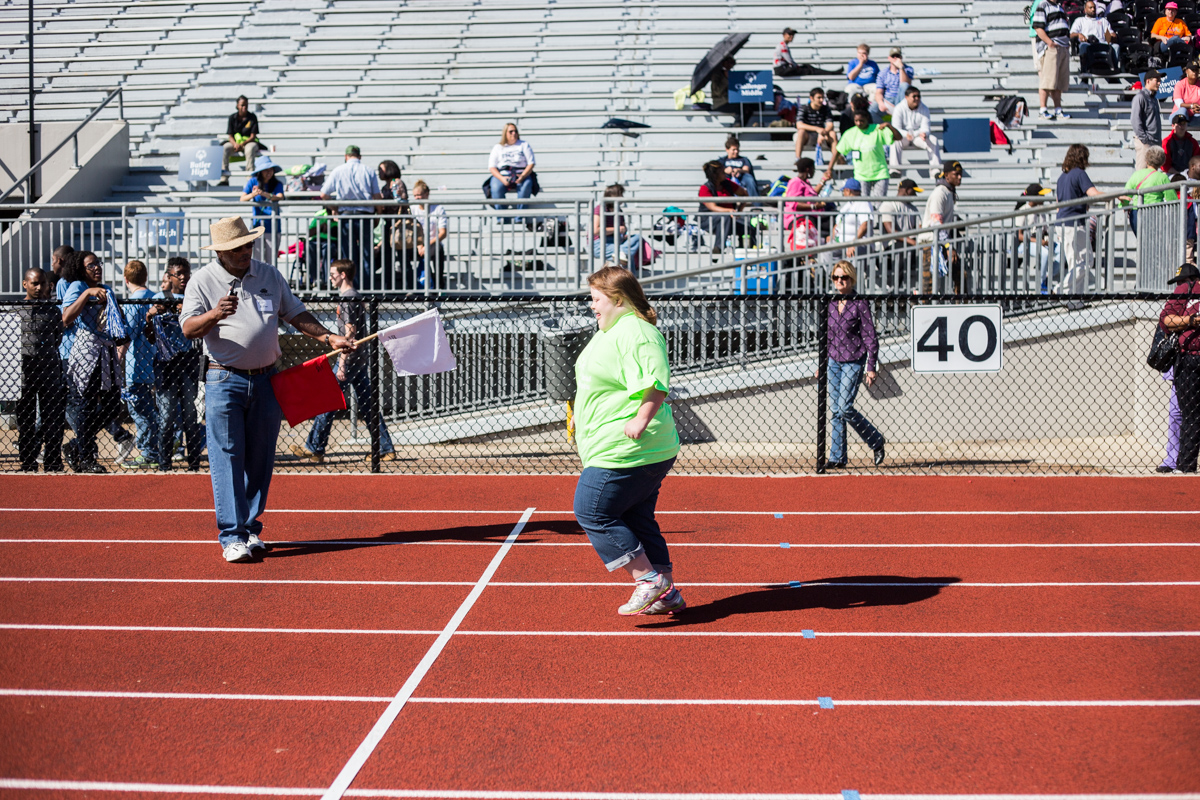 They called the next group of runners for the 100 yard dash and she was up. Runners took off, some running with purpose and others almost skipping in enjoyment of the race. Carrie kept running toward the finish line as we all cheered and shouted.  I promise you nothing was better than the smile after she had reached the finish line.Families, teachers, siblings, and friends cheered around the award platform. We again cheered for Carrie and the other athletes. smiles all around for both athletes and spectators alike!
Next up, the softball throw. We were warned by Kathy, Carries mother, that the softball competition was usually where Carrie took the gold. She stepped up and tossed 3 softballs in the wind, and of course walked away with gold as predicted.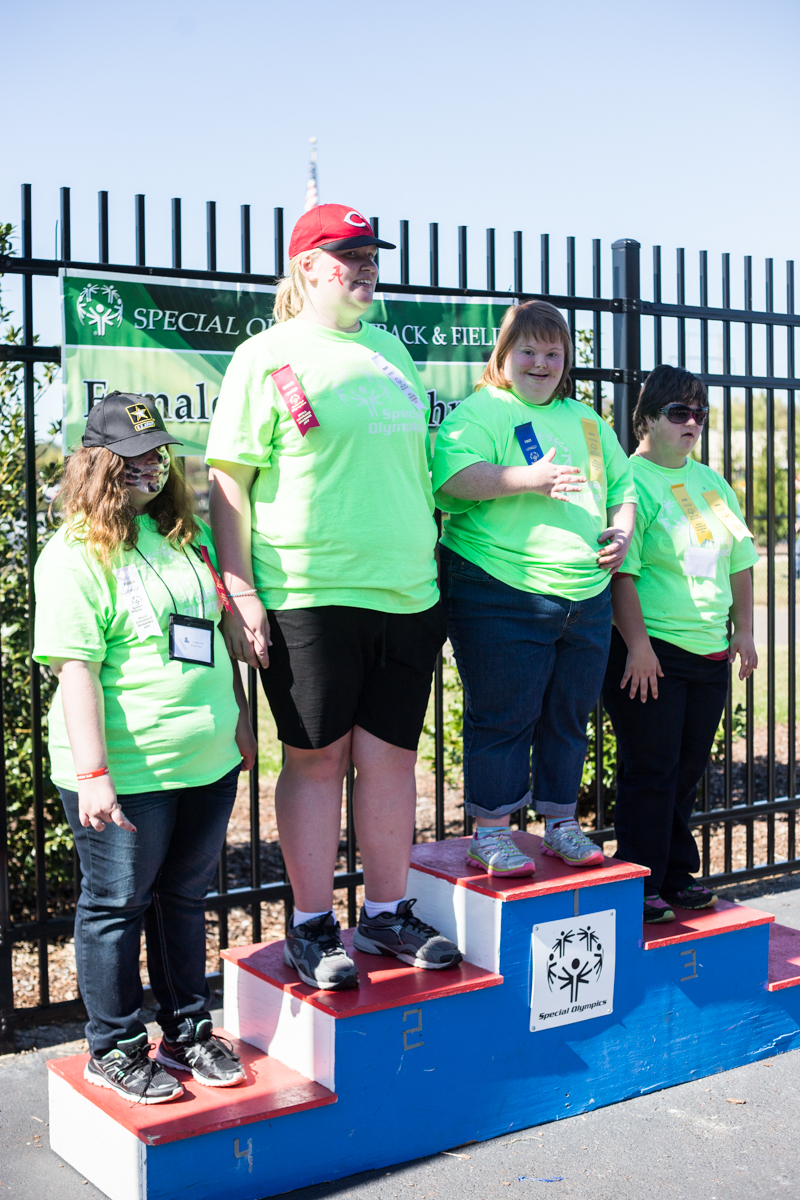 This year we were thrilled to learn that each local high school teamed up with the special olympics and provided students to buddy with each competitor for the day. In years past Military Veterans were teamed up, but now students follow along and cheer them on. We loved this idea, mainly for the focus on celebrating the athletes, but especially for the students who otherwise wouldn't see the difference in cheering on a friend.
@Homes Realty had Carrie create her very own t-shirt for us to wear…Go Carrie GO GO, embraced by a colorful heart. We can all say it is our favorite t-shirt, ever.
Perfect weather, perfect attitudes, and the perfect venue made for a perfect 10 at the 2014 Special Olympics. We're already planning how we can celebrate our Olympian next year. We encourage you to learn more about the Special Olympics and show your support.
Click on the link below to see all the photos from Special Olympics 2014 at Milton Frank Stadium in Huntsville, Alabama.