Those of us who have been watching the Huntsville Real Estate market closely know that since August of 2007 home sales in the Huntsville metro area have been on a consistent downward trend. However the market appears to have hit a bottom in the early spring of 2009 and has been strengthening throughout the summer months.
One of the indicators we watch closely is pending contracts because this statistic is a leading indicator of market conditions. The following 3 year chart compares the number of contracts closed each month (top line) with the number of pending contracts (bottom line) not yet closed at the end of each month. Thus pending contracts are a metric that can measure pent-up demand as they indicate how many closing are in the queue for the next few months.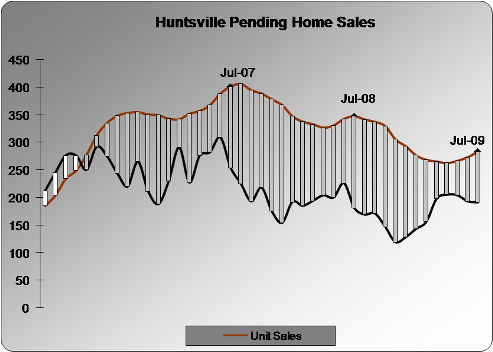 While the magnitude of these figures is important, the real indicator is the difference or distance from the number of closings vs the number of pendings. The smaller the difference the stronger the pent-up demand and thus the stronger the underpinnings of the local market.
For example looking at the chart during the 2006-2007 time-frame, at times the number of pendings at the end of the month were greater than the number of closings and note the difference between the two metrics. This behavior is indicative a market that is growing strongly with price appreciation.
Compare these results with the later part of 2007 and 2008, note the huge discrepancy and widening gap between the two statistics with pending contracts hitting their low point in November of 2008.
Nonetheless since Nov 2008 we have experienced a steady build up of pending contracts and increasing sales. While part of this move is surely seasonal, the gap or distance between the 2 sales statistics has narrowed significantly to 2007 levels, thus indicating an underlying strength within the market that will likely provide support to the current seasonal sales trends of 2009.