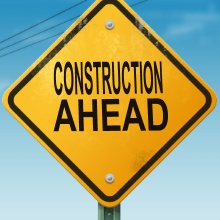 Spring is just around the corner and hopefully we will be seeing some real progress made on some of our current City of Madison projects. Our HOA president Tim Holcumbe is also on the City Council and keeps us updated from his notes taken at recent City council meetings:
Gillespie Road Extension
Still no firm date on when the Gillespie Road extension will open; the December rains delayed work, and the contractor has received an extension for completion until June. The Gillespie piece is a state of Alabama project, so the city of Madison has no control over it.
The city of Madison will be completing the Emerson Road tie-in, and we expect this to be done shortly after Gillespie opens. We have the engineering drawing of this road, and the plan calls for 2-120 foot landscape islands in the middle and a sidewalk extension (all the way to Gillespie) on the west side. We will be excited to finally get this new entrance underway.
Major Road Projects Announced
Gov. Riley announced, from Madison City Hall, on Friday, Feb. 6th two major road projects that will surely make an impact on our lives! The first was approval for a full interchange at County Line and I-565 (which is anticipated to be completed by 2011) and the second was approval of the project to widen Old Madison Pike to 4 lanes into Research Park. These projects could not have been possible without the full cooperation of the new administrations of the cities of Madison and Huntsville, as well as the Madison County Commission.
Re-zoning Vote Passes
You may have noticed in the newspaper that the re-zoning on the southwest corner of Brown's Ferry and County Line Roads passed the City Council at its last meeting.
Approximately half of the 22 acres was rezoned from commercial to multi-family dwellings, and the developer plans an "upscale townhouse" type development, with about 60% of the units having garages.
The remainder of the acreage (11 acres, which fronts both Browns Ferry Road and County Line) is still zoned commercial, and a drug chain and restaurants have shown an interest in locating here. This development will be called "Madison Crossing". When completed and combined with the multi-use development across the street (Madison Lakes, on the southeast corner; the "Bradford" property), this should enhance our property values in the Walden and near-by sub-divisions in providing within walking distance shops and restaurants.