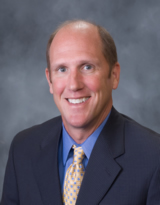 In January, Mayor Finley rolled out the new "Access Madison Initiative".  Mayor Finley firmly believes that we need more community involvement to bring government closer to the people it serves.
Part of this plan is a monthly luncheon meeting with the Mayor. I attended the meeting last month and found it full of great information.  Mayor Finley has had a very busy first 100 days in office!  Today, I had the pleasure of having a one on one with the Mayor, to ask questions and learn more about our great city.  I grabbed my camera this morning for a photo opportunity, only to learn it was not going to cooperate.  So, no photo opp.  for me, lol.
My main focus today was about our schools.  I was thrilled to learn Dr. Fowler, the Superintendent of Madison City Schools, has put together a 12 member "Blue Ribbon Committee" to analyze our schools, and present us with several options.  While we do have the land acquired for a new high school,  (80 acres) we do not currently have construction funding in place.  The committee will write the report and he expects to have it in hand in 60 days, approximately.  The plan will give us options on how to proceed.  If there is ANY money to be found for our schools, they will find it

Mayor Finley stressed that it will be a community wide decision on how to proceed, in building our new high school.  The projected cost will be $65,000,000 and will be a 3 year project.  As we all know, Bob Jones High School is currently overflowing, with 2200 students.
Our current population is approximately 43,000 and we have 11,000 children here in Madison.  The average family income in Madison is $105,000 and 50% of our citizens hold a Bachelor degree or higher…obviously, education is very important to the residents of Madison.
I would highly suggest coming to one of the Access Madison meetings.  They rotate breakfast and lunch, to fit most schedules.  You can find the schedule above within the linked Access Madison Initiative document.  Mayor Finley is making himself very accessible to the residents here in Madison Alabama, in keeping with his vision of bringing the government closer to the people it serves!  I enjoyed my 30 minutes, without interruption to discuss the many projects going on in the city.
Mayor Finley is also in the process of interviewing for a new Economic Development position.  The main purpose of this position will be to bring new business to Madison, which will help our tax base, which will in turn help with our roads and schools, which will make us ALL very happy

I was VERY impressed with Mayor Finley today.  I'd call his first days in office "100 days of greatness"!
Mayor Finley has a wonderful vision for Madison Alabama and truly wants to know what our vision is for Madison as well.   I for one will be cheering him on and giving him my support, each step of the way.  Call for your appointment and get your list of questions ready!  Why NOT get involved?