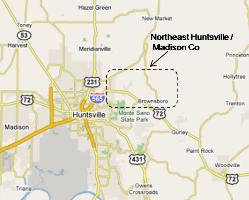 Driving from downtown Huntsville to the east on highway 72 just up and over the mountains, you will enter a lovely valley surrounded by Alabama's Appalachian foot hills. Just where the Huntsville City Limits end and Madison County begins can be difficult to tell.
Yet this unique area, effectively convenient to metro amenities, is within Madison County's jurisdiction and school system and is a very popular destination for house hunting by many people relocating to the area.
The school system for this particular area of town includes Buckhorn High School, a national school of excellence, along with Riverton Middle School. An interesting tidbit is that the High School is located at the site of the American Civil War Battle of Buckhorn Tavern, fought on October 12, 1863.
Why should you include this area on one of your House Hunting Trips?
It is an unincorporated area with metro/city conveniences. Close to major shopping areas, Hwy 72 and I-565 access provides reasonable commute times to work, shopping, and entertainment.
The property tax rates are lower than the Huntsville metro area, homes prices somewhat less per square foot, yet long term appreciation rates are similar.
In this area, there are currently close to 300 Huntsville Homes For Sale, thus if you happen to find your dream neighborhood and home, this area represents an especially good value!!!
Some specific property searches of the neighborhoods you will likely encounter are: Berry Hill Subdivision Search, Chase Springs Subdivision Search, Deer Valley Subdivision Search, Eagle Crest Subdivision Search, Mt Carmel Subdivision Search, Riverwalk Subdivision Search, and Turrner Farm Subdivision Search.
The best way to narrow your property search to this specific area is to specify the Northeast Madison County MLS Area in combination with the Riverton Middle School and Buckhorn High School. So we have provided the custom searches across various price ranges below to assist and make these searches convenient:
Happy Home Hunting – Elizabeth
Related Posts
Homes For Sale in East Huntsville
Homes For Sale in Southeast Huntsville
Homes For Sale in Madison
Homes For Sale Outside Madison City Limits
Homes For Sale in East Limestone County
Homes For Sale in Southwest Huntsville