July 2008 – Are Prices Breaking Out?
In somewhat of a seasonal surprise Huntsville Real Estate Prices ended July 2008, up ~3% for both year-over-year and month-to-month comparisons. This is a fairly significant move, given that prices over the last year had entered a flattened seasonal range and July's prices have historically lagged June's.
You will note in the following chart, trend lines are used to define the trading range we have been watching and if you look closely you will see that July's numbers have broken out of this range in an upward direction.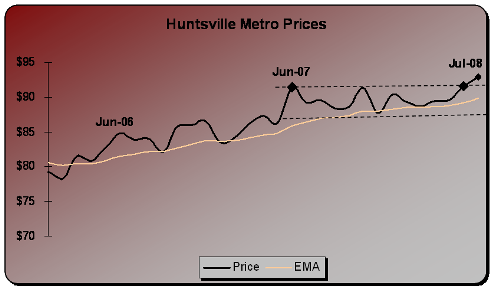 We are of course cautious, because a single month's price breakout does not a trend make. Thus, we will be watching this dynamic very closely to see if the Huntsville Real Estate Market may be reverting to its more normal trend of moderately increasing home prices.
As always the location of your specific interest may differ from the averages in the Metro Area in general. For example, prices in Madison, Northeast Huntsville, and Southwest Huntsville were up, Northwest Huntsville down, and in East and Southeast Huntsville prices were basically flat.
So please consult with your REALTOR® to perform a Comparative Market Analysis on your neighborhood and home of interest before making an offer or determining a listing price.