Twickenham Historical District
This is a story of a love affair that began one day while I was trying in vain to find a bank in downtown Huntsville. I took a wrong turn, but to my surprize, my frustration soon turned into a true love affair. As I drove deeper into Huntsville's Historic district, my love of the area blossumed and grew strong. To this day I am in awe each and every time I stroll these beautiful streets, that are steeped in Southern charm and history. Each time I drive through Historic Twickenham, I am quickly reminded of my love of the area and its history. Once you turn onto one of these majestic tree lined streets, you too, may fall in love!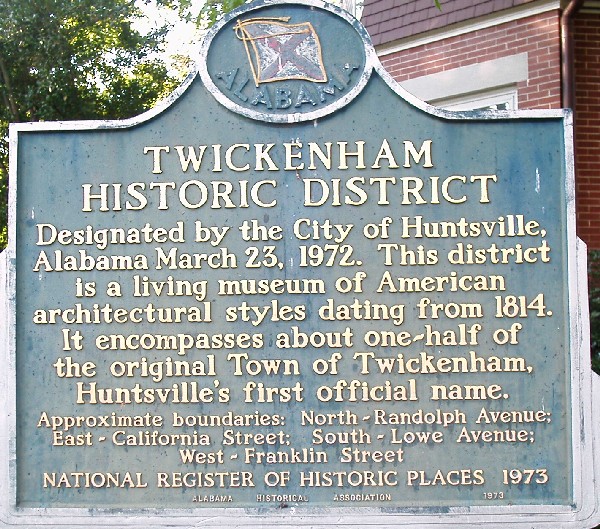 Unknown to many contemporary residents, Twickenham was the original name for Huntsville Alabama. LeRoy Pope purchased the land at auction and later donated it to the town. He chose the name Twickenham, to honor the London suburb which was home to England's most famous poet of the 18th century, Alexander Pope, a relative of LeRoy's. However, the town was later renamed "Huntsville", after its first settler John Hunt (Hunt's-ville), during the war of 1812.
Twickenham is Alabama's largest antebellum district. Here you will find outstanding examples of Federal, Italianate, and Classical architecture. Remember when visiting Huntsville, walking tours of Twickenham are offered. For information, visit www.huntsville.org or call 256-551-2230. You will also be able to tour the oldest home in Alabama, the Weedlen House.
The Historic District in Huntsville has 3 defining areas, Twickenham, Old Town, and Five Points and each area has a distinct street sign so you always know where you are. Twickenham street signs have a tree symbol, Old Town signs all have the name Old Town, and Five Points signs use a star symbol. You will see photos of the signs in following photos and slide show. I will write about Old Town and Five Points at a later time. Today, I am focusing on my true love of Twickenham.
Home prices in the Twickenham Alabama neighborhood begin in the mid $200′s for those properties that are in need of major renovations and go upwards into the millions. Finding a home in the lower price range is a rarity. Most of the homes in Twickenham have been lovingly restored and are simply stunning.
If you live in Huntsville and have not taken the time to visit our own piece of history, don't wait any longer. If you are visiting our fine city, I would put this on my list of things to see here in Huntsville Alabama. I'm sure you will soon fall in love, just as I did! I hope you enjoy my slide show as much as I enjoyed having the opportunity (excuse) to photograph these beautiful homes.

…click here to browse the current listing in the Historic district…
- Elizabeth