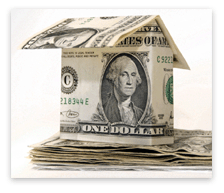 We received an email question that asked why we measure our local real estate sales using the number of units sold rather than dollar volume. It's a good question really, because any business' success or failure is always measured in dollars and the Real Estate business is no different than any other business in this regard.
The reason we focus on unit sales in our market update posts, is that this is a simple unitary metric that is not influenced by more complicated factors such as price appreciation. If your product is one that has been experiences strong appreciation as the Huntsville Alabama Real Estate market has over the last 5 years, then it is easy to comprehend that one could sell fewer homes this year for a same or higher dollar volume than last year. It is as simple as that.
Nonetheless, I thought it would be interesting to look at dollar volumes over the last few years and see if they show us the same recent sales slowdown as the unit sales metric does.
The following chart looks at the entire North Alabama MLS dollar sales figures over the last ~8 years: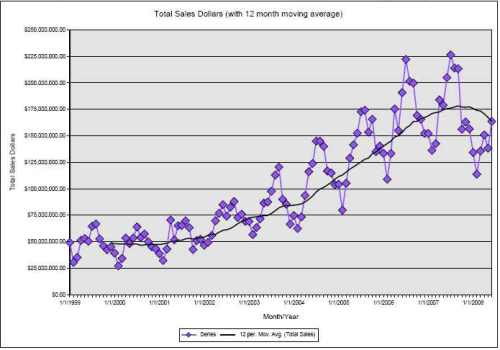 It is very interesting to see that there has been a steady growth in sales volumes from mid 2001 to the summer of 2007. It is also of interest to note the somewhat symmetrical high and lows of each year align with summer and winter months respectively. Real Estate is indeed a seasonal business.
Also note that since last summer (2007) dollar sales volumes have slowed and this is clearly typified in the 12 month moving average curving over into a downward slope over the last year.