First you should analyze recent sales in your area. Have your agent pull recent sold homes in your area and look at the differences when compared to your home. In other words, why did those homes sell instead of yours?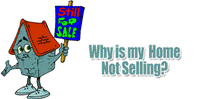 Look closely at the listing and sales price per square foot on comparable homes that sold, and this will give you an indicator if your home is over priced for current market conditions.
If it is over priced, keeping it on the market won't likely accomplish your goals and may hurt you in the long run as people begin to question: 'What wrong? Why isn't that home selling?, Must be something wrong with it?" Adjust your price accordingly if you can. Otherwise if you can wait for a better time to sell, you can simply take it off the market.
If it's not price and some modifications or updates like painting, carpet, etc that are needed. Consider removing the home temporarily while the upgrades are being completed. Then make a minor price adjustment, stage it, and then re-list it. This will give the listing a 'New' look and feel and showings should improve.
For some sellers finding a tenant until conditions improve, rather than a buyer may also be a good option. There are tax advantages that may be leveraged especially if you are buying another home. However, you should always check with a tax adviser before pursuing this option.