Huntsville Metro Area Home Sales for the month of May 2010 are up for the 3rd straight month. With 343 closings of record, the hyper-local market is up 5.9% over April's results and up a very respectable 17.9% when compared seasonally with May of 2009.
What Makes this Month Look so Good?
Generally, seasonality rules the road within any given Real Estate Market , and our market is no different. If you note the four year home sales history in the following chart, you will see that our local housing market peaked in 2007 and we have been experiencing a downward trend in home sales now for over 2 years. However note that after 2 down years of sales seasonally for May, May 2010 is bucking the trend line and has moved seasonally higher.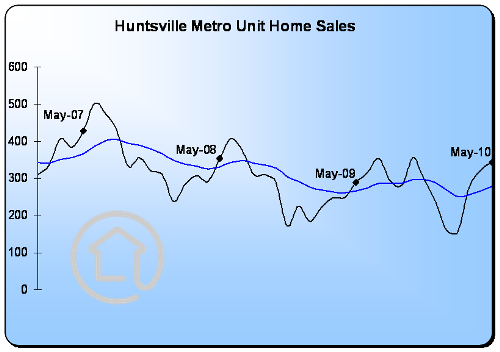 Why are this Month's Results Suspect?
Typically when a local housing market is growing and making gains from a seasonal perspective, this is very good news for everyone in the market; home owners and Realtors alike. However this past year is a completely different beast, because the Home Owners Tax-Credits of 2009-2010 have really skewed the market's normal seasonal oscillations.
The Good News will Continue at least One More Month
The unique perspective of the latest Tax-Credit (expired April 3oth) is that it was applicable to transactions that would close by June 3oth, thus there are pending closings currently in the queue that are Tax-Credit related, if not motivated. In fact a quick search of current PENDING closings this morning revealed; 374 closings just for the metro area alone within the current queue.
Thus the seasonal comparisons of July and August (if no further legislation is acted upon) will begin to reveal where the Huntsville Real Estate market will measure out. Will we begin making new seasonal lows? Will the market's bottom finally be visible? While time will only tell, be assured; when we know – you know! …So stay tuned or better yet subscribe to our feed for your own personal notification.
– Elizabeth