Huntsville Real Estate – So Many Maps
While there is still quite a bit of work we are doing on all of our new Huntsville Real Estate maps they are beginning to take shape and over the next few weeks will continue to improve greatly.
Already throughout the entire Huntsville Home Search process you can optionally view maps within your search results, view one of an individual home, or homes within a 1 mile radius of a particular listing, etc. We have also dedicated a Huntsville Real Estate Map search page that is designed to use 100% of your browser's canvas and it color codes results depending on the approximate age of the listing. Moreover you can now view listing details from this page and never have to leave it with more improvements underway.
Also our quick Huntsville Home Search widget displayed on most pages in the right sidebar gives you an option to display search results on a map or not, whether it be a school system, neighborhood/subdivision, city, or zip code based search. Maps are certainly a nice new feature and we are glad to provide them but depending on your connection these pages take a bit longer to load. Thus they are of course completely optional. Many searchers prefer a classic search display and take a closer look at maps only on the properties that most interest them. Others prefer to search from a map and after viewing listing detail return to the search map. Well all we can say is have your way, because we do it all!
Hey …Why are your maps so blue?
So funny really, a customer mentioned this to me just yesterday and admittedly when I first implemented Google's street view overlay I found it strange looking as well. Nevertheless it is a really cool feature that allows you to bring up a panorama street-view anywhere on the map by simply clicking the street between the blue outlines, thus zoom in a bit and give it a try and be sure to use the Full Screen view as well when you want to take a close look, it is awesome!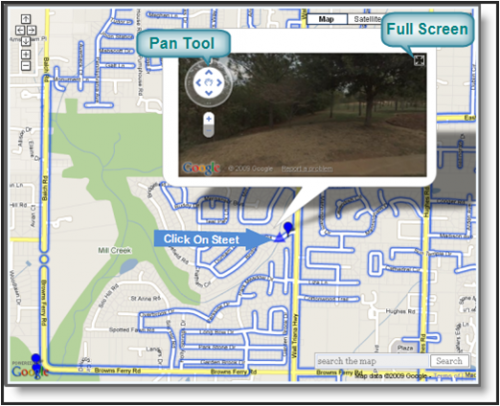 As illustrated in the screen shot above simply click on any street outlined in blue and a small street view window opens up allowing you to pan in any direction. In fact, given we are using the street view overlay you are not restricted to just views around listing locations. Why not check out the neighborhood, the closest shopping center, or the local high school.
How do I find near-by schools and shopping?
It's easy to do since we are using a local search control tool in the bottom right hand side of all of our maps. As illustrated in the following screen shot just type in schools, restaurants, libraries, etc and markers and navigation are added to the map for your convenience. Now zoom in near the school of interest pop-up a street view and go full screen to take a closer look.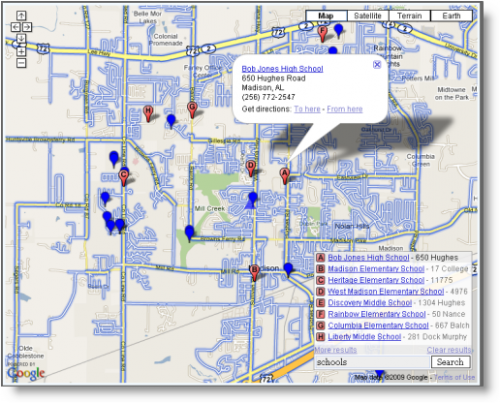 What about Google Earth?
We have it too, as an option on all of our maps. However Google does require that you install a plug-in into your browser before it will function. Moreover don't forget your connection type as this advanced feature is certainly not for dial-ups or for even DSL-lite access methods. Anyway hope you all enjoy the new map features and more is on the way.