As widely reported, Huntsville Home Sales have been at record seasonal levels over the last few months due to the First Time Home Buyers Tax Credit of 2009. Given this event, have local home prices reflected this increase in demand?
The answer, not surprisingly, is both yes and no and is reflected in the following 4 year Huntsville Real Estate price chart. When compared seasonally year-over-year, prices on-average are down some -7% when compared to November 2008 levels, however prices are indeed up from their lows earlier this year prior to the enactment of the Home Buyers Tax Credit as a true credit and not just an interest free loan as originally enacted within the previous congress.
Huntsville Average Home Prices per Square Foot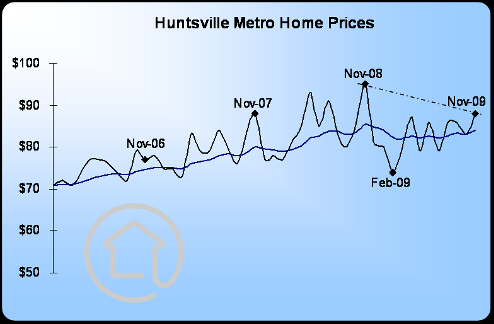 So we know from basic economics that an increase in demand will be normally accompanied by an increase in price,when inventory levels remain relatively constant. So why the decrease in average sale prices?
The answer is found by taking a closer look at the break down of price change across a number of different price ranges as illustrated in the following chart:
| | | | | |
| --- | --- | --- | --- | --- |
| | %Mix Price | 11/08 Avg Price | 11/09 Avg Price | %Change |
| 0 – 150k | 34.4% | $64 | $76 | 18.8% |
| 150k-250k | 39.4% | $91 | $93 | 2.2% |
| 250k-400k | 22.1% | $101 | $97 | -4.0% |
| 400k-up | 4.1% | $138 | $136 | -1.4% |
| All | 100% | $95 | $88 | -7.4% |
What we glean from this relatively easy, yet deeper, glimpse into recent sales statistics is that there has indeed been some tremendous upward price pressure in the First Time Buyer Segment of the market especially @ $150k and below where inventory is limited. In this particular price range we see prices up some 18.8% over this time last year. However when looking closely at the upper end price ranges where absorption inventory  is  higher and in some ranges very high, we of course find flat and declining prices.
Thus median and average home prices must be looked at with a critical eye toward both location and price range detail and this is something we do on a regular basis for our clients and customers. While my time has been limited recently, I am now taking on a few new direct client accounts and would welcome an opportunity to interview for your business. If interested please contact me directly via email or leave a voice mail @ 256-656-7021.
Kind Regards – Tim