The real estate industry is certainly undergoing a dramatic shift in today's economy.  However there is a much more significant change going on with how buyers find and eventually purchase their new home. Sure everyone knows the internet has become a powerful tool in our daily lives but a picture speaks louder than a thousand words. Note the following graphic which illustrates where real estate consumers first found the actual home they purchased.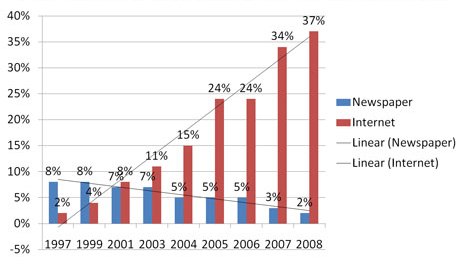 Note the steep consumer trend migrating from print to internet media as they explore, select homes to view, and ultimately the home they purchase. So if you're a seller in today's market how is your listed home performing when it comes to its internet presence?
National Media Exposure
National media marketing is a fairly level playing field; the local MLS feeds Realtor.com and other national sites and almost every agent uses online flyer companies that in turn feed your home listing into the Truilia's, Zillow's, and Hot Pad's of the internet world. However, the bigger question sellers should be concerned about is local internet exposure and how your listing information does when consumers type in your area's keywords into Google, Yahoo, and Msn.
Local Media Exposure
Consumers will drive-by your home see your sign and if interested, when they get home they will type your address into Google and go from there. They may also find your home on a national website and find not an address but an MLS number. So try typing in your address and then your listing number and see if your agent's online marketing effort is working effectively.
Better yet many internet searchers will be looking for homes in specific neighborhoods, communities, and school districts. Do a few searches on your neighborhood or subdivision name; is your home's marketing data accessible from there?
What You Should Ask Potential Listing Agents
So sellers, when you're interviewing potential listing agents check and verify their websites. Ask them to bring along the statistic output from their local websites. How much local traffic are they receiving? What is the average duration of a website visit?
Do they blog? What is the quality of their blog content? Are they already marketing in your neighborhood via their website content? Will your home be a featured property on their website receiving more user impressions than being buried in listing detail or on a single blog post?