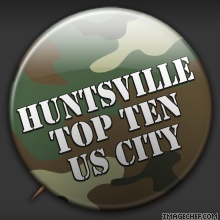 Milken Institute has just released their 2008 Report on the Best Performing Cities where America's Jobs are created and sustained.
The Huntsville Metro Area has moved up from 16th in the 2007 report to 5th in 2008. The report credits a broad rebound in the Technology Sector along with Exports and Energy production as the cause of a dramatic change in the top 10 cities.
Several metro areas that have dominated the rankings in recent years have fell due to sharp declines in their construction and housing industry such as Florida, California, and Nevada and the lowest performers this year were again from the industrial Midwest sometimes called the rust belt. While 2008 has not been a peak sales year for Huntsville Real Estate, prices have remained strong and stable.
The top ten and their previous year rank:
Provo-Orem, Utah (8)
Raleigh-Cary, North Carolina (10)
Salt Lake City, Utah (18)
Austin-Round Rock, Texas (20)
Huntsville, Alabama (16)
Wilmington, North Carolina (2)
McAllen-Edinburg-Mission, Texas (7)
Tacoma, Washington (50)
Olympia, Washington (37)
Charleston-North Charleston, South Carolina (12)
One negative stated in the report is that Huntsville has a very high dependence on the High Tech Sector, thus our economy is not as diverse as it should or could be. The full report can be obtained at the Milken Institute website for further reading.