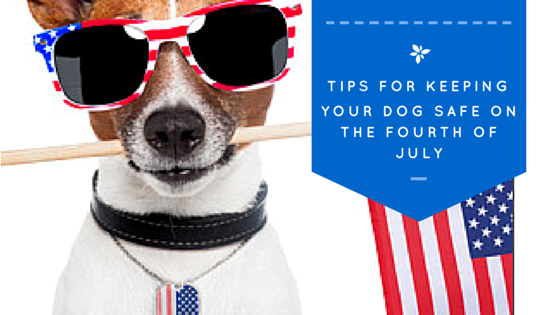 Who doesn't love a great fireworks show!  Flashes of red, white and blue filling the sky, celebrating Americas birthday. What's not to love about the beauty of our skies lit up in awe.  Well, ask your pup!  Our dog, Sprocket, is quite sensitive to loud noises.  Fireworks in particular.  We end up with a petrified 75 lb. dog on our laps, shaking with fear. Oh, and don't forget about your cats.  They are just as sensitive!
Did you know that the Fourth of July is typically the time of year that many dogs run away?  They are doing so to escape the sound.
We've put together a list of tips of do's and don'ts that we hope will help you and your 4 legged best friend survive the 4th.
DO:
Keep your furry family members INSIDE.  Close your curtains.
Turn on a radio or TV…it will help drown out some of the noise.
Make sure your pets are wearing their collars with up to date ID and tags.  If they do manage to escape, this will aid in their rescue and safe return home.
Wear them out! Take your pup for a long stroll or run before dark, when most fireworks begin.
Try a ThunderShirt.  Right before the fireworks begin, put it on your pet. These shirts provide constant pressure so your dog feels secure and safe.  Just like a hug.
Distractions can work: When the fireworks are boom, boom booming, play fetch with their favorite ball.  Maybe a fun game of hide and seek in the house.
If your dog tries to run and hide under a bed or any other area INSIDE that is safe, let them.  Never force them to be closer to the fireworks and sounds.
Stay calm.  Our 4 legged friends have a keen sense and feed off of our emotions.  If we stay calm, that will help them stay calm as well.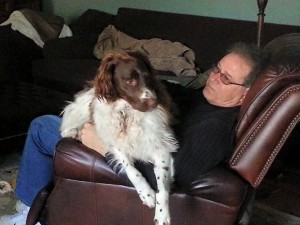 "Dad will keep me safe!"
DO NOT:
Please don't take Fido to a fireworks display!  Crowds, heat and a scared dog are a recipe for disaster.
Never force them to be closer to the fireworks and sounds.
NEVER leave your dog outside unattended, even in a fenced yard.  Dogs that typically wouldn't try to run off may just panic and try to escape the noise.  Dogs can hang themselves in an attempt to leap over a fence.  To avoid injury, please keep your pooch inside.
If your dog does manage to run away, call the local shelters in your area as soon as possible.  Here is a great map to get you started.
Stay safe and enjoy the 4th!  If you are searching for fireworks displays here in the Huntsville area, Rocket City Moms, created a great list.