Huntsville Housing Market
Well the 2013 Huntsville market statistics have firmed up for this past year; so it is finally time to take a good close look at the year overall, assess where we are at, and formulate a hypothesis of where the market may be heading in 2014.
Overall this past year was a good one, seeing home sales increase into and over 2008 levels. One of the more interesting trends we took note of during the year was an increase in the number of active Realtors® coming back into the market. A recent article in the Huntsville Times summarized it very well;
The greater Huntsville area, experienced a sharp decline in Realtor® membership from 2006-2010, losing roughly 500 members from our local ranks. …The Huntsville area saw 127 new members go through orientation by mid-year 2013 and …"We could see another 60 to 80 by the end of the year," says Kipp Cooper, CEO of HAAR.
Huntsville Home Sales
Huntsville homes sold during 2013 marked a return to higher home sales, which finally exceeded the great recession year of 2008. Huntsville single family home sales experienced a 7.6% increase over 2012 and when compared to the most recent low point of the market 2010; a whopping increase of 18.6%.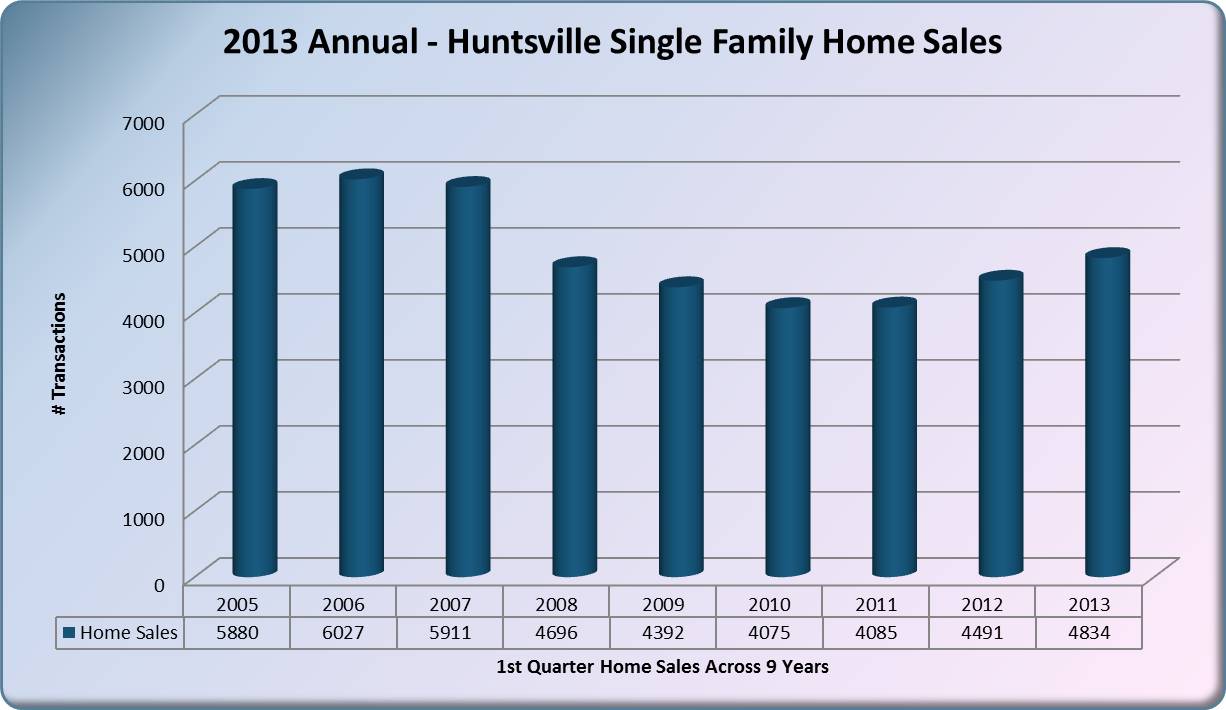 However let's not jump with glee for too long or overly simplify where we have been and where we are headed. When we view the chart above, which reflects Huntsville home sales over the last 9 years, we realize we are still below some 19.8% from all time market highs pre-housing crisis and the great recession of 2008/2009. While the current year's performance is very good news, we also must realize we still have a ways to go to return to a pre-housing crisis level of home sales.
Huntsville Real Estate Inventory
The home inventory average for 2013 rose 4.6% from 2012's average inventory of 3581 units, to 2013's average inventory of 3747 homes for sale.
However months of supply, a more informative inventory metric as the ratio of inventory / sales, improved from 10 months in 2012 to 9 months of supply for 2013. Typically a monthly supply of 6 – 8 months is considered a balanced market that favors neither buyer or seller. The following chart sanitizes these inventory figures further by comparing annual figures going back 5 years.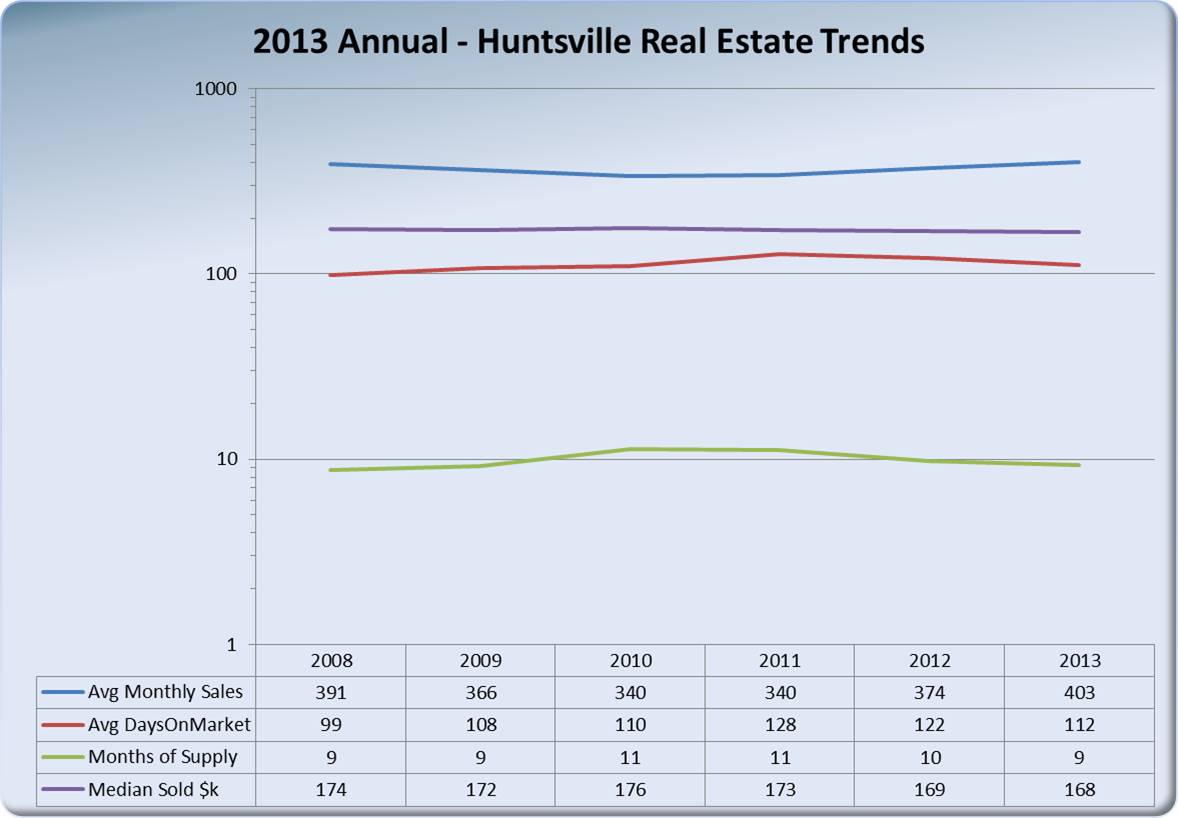 Huntsville Home Prices
Median home prices are the most controversial of all the statistics we report on. They can swing wildly from month to month due to a number of different factors. E.g., a recent monthly report from the University of Alabama reports a 9.8% increase in prices for the month of Sept. We were certainly delighted to view the Huntsville Times report clarify this by the following disclaimer:
Pricing can fluctuate from month-to-month as the sample size of data (closed transactions) is subject to seasonal buying patterns so a broader lens as to pricing trends is appropriate.
Huntsville median homes prices descreased by 0.8% when comparing year over year between 2012 and 2013, which basically means that median home prices have remained flat during 2013, with neither a significant increase or descrease.
2014 Market Outlook
Given continued economic progress, we expect the Huntsville Real Estate Market to continue its growth trend over the last 3 years and grow again, thus narrowing the gap between existing sales and the all time high set in the pre-housing crisis years of 2006 and 2007.
One potential uncertainty that hampers a more positive prognosis for 2014, is the current defense budget for the year and the currently unknown manner it may be addressed by Redstone Arsenal. In 2013 the defense budget cuts were handled in a temporary manner whereby Government employees were limited to 32 hour weeks for a few months. This year may see Redstone address these cuts in a more permanent fashion. Time will only tell.
It is also important to note that broad market conditions may not accurately reflect the fair market price of a specific home on your buyer short list or the home you wish to sell. Attributes like neighborhood, hoa, school zone, and others can greatly vary prices from neighborhood to neighborhood.
Thus if you're considering buying or selling in the Huntsville market, let us help you make an informed decision (256) 425-1659 Elizabeth@athomesrealty.com .
– Elizabeth