Every industry has its Icons; the individuals that have blazed a trail for others to follow and the Real Estate industry is no different. Russell Shaw of Phoenix, AZ is one of these Icons, he is a mega producer in every sense of the word.
Consistently ranked as the #1 producing agent in Arizona and in the top 25 nationally he is like the old E.F. Hutton commercial; "When Russell Shaw speaks industry insiders listen!"
A Giver not a Taker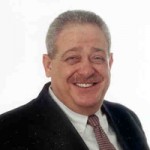 Probably his most famous (as apposed to most valuable) contribution to Real Estate Marketing is his:
No Hassle Listing® – Home Marketing System
If anyone has given back to an industry its Russell and when asked about what he enjoys most about his profession he answered:
Making my fellow agents more successful. Helping them to navigate the real obstacles and also to recognize those obstacles that exist just because someone created them.
As a tribute to his creativity his listing marketing system has been utilized and tweaked by other agents all over the country.  Does Russell mind that his content, ideas, and methods are being used by so many others? No its a form of flattery. When asked his permission he plainly stated:
Please feel free to use anything there you might like, other than the name, "No Hassle Listing®".
The Heart of a Hassle-Free Listing Experience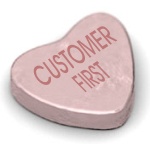 At the very heart of Russell's system are some very basic 'consumer first' principles and that is why we like it so much. Simplicity and putting the customer first are at the heart of our principles at @Homes Realty.
Sell the Property Yourself  and Pay no Commission
Cancel the Listing at Anytime
No Advanced Fees of Any Kind
No Pressure Presentation
What is so interesting about these core principles is that I have always managed my listing business utilizing these same basic principles. I have just never advertised them, obviously to my own loss.
Hassle-Free is not Stress-Free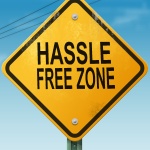 I wish I could commit to you that selling your home won't have a moment of stress, but I can't, nevertheless I am committed to making it as stress free as possible.
Hassle and Stress are 2 entirely different things and the negotiation and closing phase of any home sale can be a bit stressful at times, even when you are getting your asking price, its  just the nature of the beast.
We Aren't The #1 Agency in Town …At Least Not Yet 🙂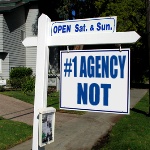 Unlike Russell, we don't sell more homes than any other agency / team in the area and can't make this claim. Nonetheless it isn't that we are not proud of our performance!
This morning, I pulled an Market Penetration Report and compared our production with that of competitors, we were listed 44th out of 209. However when I used roster numbers and compared our production on a per-agent basis in an apples-to-apples fashion; we came out ahead of the top 10 offices in town.
However while statistics are useful to the extent that you know the exact context they are pulled. They are also a funny thing and can change daily and if one becomes too bound to them from a marketing perspective, instead of you driving the statistics – the statistics end up driving drive you, and this would not be a good thing.
We Can Sell Your Home Faster than the Average Agent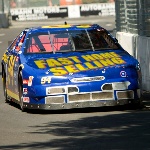 Like Russell we can sell your home faster than the average agent, but I am not sure how helpful this comparison is, given the huge divergence of the 2 sets being compared. The easiest way to explain this is by example. On any given day I can pull the median average selling time for 1000 agents, and 499 of them are faster than average.
There are many factors that will effect how quickly your specific home may sell in the current market. Your price range, listing price, condition of your home, curb appeal, etc, all play a role in how quickly your home will sell.
Your choice of Realtor® will also play a significant role in how fast your home will sell.  Our marketing plans and effort are 2nd to none and we lead the pack when it comes to Internet marketing the major media outlet in today's real estate world and to borrow one of Russell's now famous quotes from the top of his web page:
I'm not bragging, I'm applying for a job!
Want to learn more about our Home Selling System?  Simply email me or give me a call 256-425-1659 because we are happy to share.
– Elizabeth