As a savvy, modern day brokerage, we're all about using the latest technologies. From search engine optimization to social media and QR codes, we're big on implementing new things!
We also believe the latest trends should be backed by solid traditional advertising. That's why we are well represented on the radio and in print form. However here is the catch you may not be hearing from many of the agents you are interviewing to market your home:
Traditional Advertising Won't Sell Your Home
TV, Radio, Billboards, Newspapers, Magazines – Don't Sell Homes!
Don't get me wrong traditional advertising is still alive but its not doing well as in years past. Like so much of the modern-day world, traditional advertising media has been supplanted by 'The Internet' and this is especially true when it comes to real estate.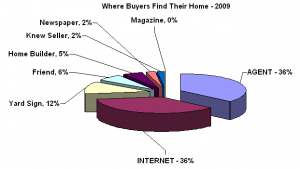 According to an extensive survey of recent home buyers, the National Association of Realtors® (NAR) found that only 2% of home buyers actually first found the home they bought from Tv, Radio, and Newsprint media.
What works? …The same survey found that only 3 major advertising targets accounted for 84% of successful home buyer contacts:
The Internet, Realtors®, and Yard Sign

Moreover Huntsville home sellers, these are exactly the very same areas where we are going to focus the vast majority of our resources and efforts on your behalf.
Some Traditional Advertising Still Going Strong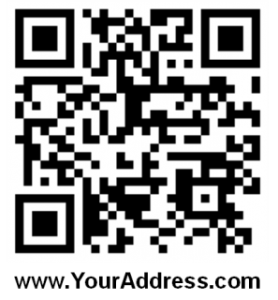 When it comes to print advertising your home, Yard-Signs Still Rule and account for ~12% of successful buyer contacts! However effective modern yard-signs, are also taking on some very new characteristics.
The sign we will place in your yard is truly unique among our competition, because it contains a Quick Response Code rider with a URL address of your home's own detailed Internet fyler page. The URL will be a very simple one and easy to remember for potential home buyers; your home address, as illustrated in the QR code example to the right.
Drive-by potential home buyers have a choice to get instant access to the full details and photos of your home: they can call us directly, scan the QR code with their smart phone, or just type in your address URL in any cell phone and be taken directly to your home's detailed fyler page. Be sure to view our introductory video on:  QR Code Yard Signs
We Think Outside the Box – When it comes to Paid Advertising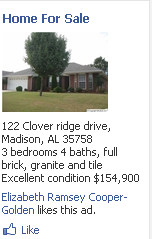 There is one thing as a Home Seller that you can rest assured of when listing your home with us. The creativity and resources we will bring to bear marketing your home far exceeds a typical  PPH strategy (Put up a sign, Put it on the mls, and Hope it sells).
A large portion our company's advertising budget is dedicated to our home selling clients. While we likely won't be running newsprint or magazine ads featuring your home, we will be utilizing different Internet pay-per-click advertising strategies featuring your home as illustrated in the graphic to the left.
Facebook Advertising Rules! Facebook is the most visited website in the world with 100's of millions of users. With Facebook we target your ad to specific demographic groups based on the price range of your home. Demographic choices for your ad include: radius of location, age, gender, marital status, likes dis-likes, education, profession, and their connections with other Facebook users and groups.
We are also heavy users of pay-per-click ads on Google's Content Network and we explicitly target your ad on national real estate websites like Trulia, Zillow, and all others that host Google ads. This in effect features your home across the Internet real estate network, obviously metered by budget constrains.
Want to learn more about our Home Selling System?  Simply email me or give me a call 256-425-1659 because we are happy to share.
– Elizabeth