I think Realtors® get a bad rap when it comes to using Open Houses as a marketing tool. In general, the public view, is that Realtors® hate Open Houses and given a choice wouldn't utilize them in marketing your home.
While there are genuine security and safety concerns often expressed by agents, most Realtors® still view the tried and true Open House as an effective marketing tool, as do we! …However let's tell it like it really is:
The Dirty Little Secret – Open Houses are For Realtors®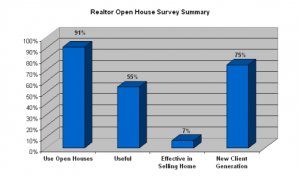 Who better to survey than real estate agents when it comes to the effectiveness of Open Houses. This is exactly what the National Association of Realtors® (NAR) did and also more recently the Real Estate Center at Texas A&M University.
The results from these surveys reveal what is really going on with Open Houses.
First off, 91% of all Realtors® use Open Houses as a marketing tool and a majority (55%) feel that they are useful and will continue using them. However a much larger question still looms, 'Useful for whom?'.
The survey goes on to relate that only 7% of Realtors® reported that an Open House has been effective in actually selling the home that was held open to the public, while 75% percent reported that they have found new clients and other business using a non related Open House. There you have it, holding your home open to the public benefits your agent and their business much more than it benefits you as a home seller.
Public Open Houses Won't Sell Your Home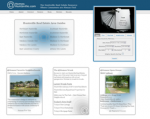 Like almost everything else in real estate marketing, Open Houses have diminished in effectiveness due to the Internet, Internet, Internet. The 7% percent effectiveness referenced in the above survey was reported in 1995 and with the advent of virtual tours, JavaScript slide shows, and U-Tube videos this figure is very likely in the 1-2% range in 2010 as I write this post.
Agent Open Houses Work Much Better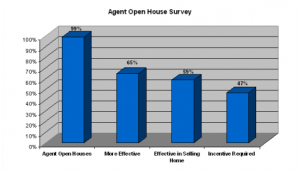 Let's not forget about Real Estate agents, as they still account for one the largest segments of where buyers first come in contact with the Home they eventually purchase, virtually tied with the Internet as of last year.
In the same survey 65% of Realtors® stated that Agent Open Houses were more effective than public home houses. Additionally 59% said that this type of Open House was actually effective in selling the home being offered, your home!
However the difficulty of getting a turn-out that will benefit your home sale was reported as more difficult than getting turn-out from the public, with 47% saying that some sort of incentive, a weekday schedule, and timing the event around initially placing the home on the market or when price adjustments occur was the most effective way to get this valuable attendance.
To learn more about our home selling system and using Open Houses effectively in your marketing campaign. Simply email me or give me a call 256-425-1659 because we are happy to share.
– Elizabeth