Sellers first let me clarify my title. There is of course, such a thing as Aggressive Internet marketing. However, here's the catch, what is often presented as an Aggressive Marketing Plan may not be the case. Let me provide you a transparent example of exactly what I'm saying.
Internet Marketing of Your Home is Important!
It doesn't matter what part of the country you are from or where you search the real estate Internet, I know you've seen all the variations on the claim:  'With my Aggressive Marketing Plan, I'll  sell your Home faster' …for top dollar, …in 90days or its free,  …heck I will sell your home in 120days or I'll buy it …and on and on.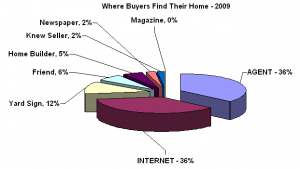 Inevitably when you're presented the advertised Aggressive Marketing Plan during your interview of potential agents, Internet Marketing will be a very large portion of it, as it should be!
After all, over 90% of all eventual home buyers use the Internet to search and examine properties, and according to the National Association of Realtors® approximately 36% of current home buyers actually first find the home they purchase on the Internet and not from their agent.
Listing Syndication – The Dirty Little Secret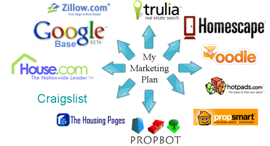 Listing syndication is an important Real Estate Marketing technique and service that will greatly expand the Internet exposure for your Home, and you definitely want to hire a Realtor® that utilizes this capability.
But here is the RUB …our Local Realtor® Association provides syndication options for all associated Realtors® equally. All I, or any Realtor® for that matter, have to do is list your Home and choose the appropriate syndication networks and poof your home will be distributed across 100's of Internet websites to provide exposure to potential buyers: Realtor.com, ValleyMls, Remax, Keller Williams, Crye-Leike, Exit Realty, Century 21, ERA, Trulia, Zillow, …and on, and on, and on  …your listing will be everywhere!
This is a good thing for sure and exactly what you want as a seller, isn't technology grand!  Nevertheless what I am saying here is, this in no way demonstrates Aggressive Internet Marketing and should not be used as a differential in determining the Internet Marketing Capability of agents competing for your business.
Hyper-Local Buyer Friendly Websites Rule!
Buyers are primarily interested in property search and listing details when they begin their internet queries.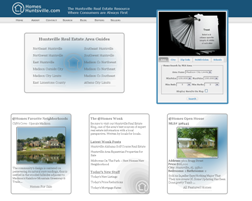 However as their Home Search begins to narrow they become extremely interested in additional information such as nearby neighborhood characteristics, a local's perspective, home sales and price statistics, restaurants, entertainment options, etc. This drives them to local websites where such information is available.
Sellers, understanding 'buyers' and what internet features makes them tick and return to a particular local website over-and-over again is one of the attributes we bring to the table in marketing your home and effectively reaching your target audience.
Our buyer friendly website with its 1000's of listings and over 400 hyper-local blog pages of Neighborhoods,  Market Reports, and various Local Happenings dominates Google search results for all the buyer friendly search keywords.  Take it out for a spin by clicking the image above.
Sellers – You Want Your Home 'Featured' on our Buyer Website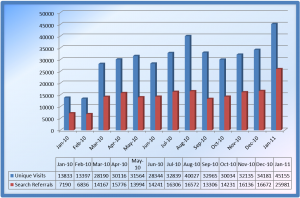 With unique visitors north of 18,000 a month and visits over 40,000 a month, you will want your home and neighborhood featured on our websites. Click on the image to the right to look at a snap shot of recent buyer traffic statistics.  ->
Did I say featured neighborhood? Yes I did, if your neighborhood is not already featured it will be along with your home. Why do we do this? Because neighborhood and subdivision information is a primary search target of potential home buyers when they are finalizing their location decision and this is exactly when you want your home presented. The featured neighborhood articles attract Google searchers and then links them into your and other neighborhood listings.
What Does Being 'Featured' Mean and How Does it Help?
Having your home featured on our buyer friendly website provides additional exposure for your home in a number of important  ways: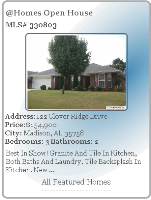 First off almost every page of our website randomly highlights 1 or 2 different featured homes each time the page is loaded. From the home page, search result sidebar, to every blog page side bar and with 542,631  page views just last month this is a lot of advertising impressions to say the least.
Secondly when buyers execute searches with specific criteria any featured home that falls into this criteria, is filtered to the top of the search results list increasing impressions even further.
Thirdly our buyer blog feed is also syndicated and your featured home and neighborhood posts, get exerted and distributed within various social networks like Facebook, Twitter, etc. Moreover our feed is also followed by hyper-local news aggregators like Outside.in, which in turn feed local content onto major news websites, thus it is not uncommon to have local area readers visit our site from the likes of Cnn.com, Msnbc, etc.
Fourthly let's not forget about Realtors®, they are a very important component of getting your home sold and while we contact all local agents having clients with search criteria matching your home in real-time, we also distribute your home's details through the largest real estate agent network in the world, Active Rain.  This is important especially for the Huntsville area as we have a steady stream of relocations occurring.
Want to learn more about our Home Selling System?  Simply email me or give me a call 256-425-1659 because we are happy to share.
– Elizabeth