Huntsville Housing Market
With the 3rd quarter of 2013 behind us, its time to update our market statistics and evaluate how the local market is doing.
From time to time it is also important to remind our readers that the statistics we report are quarterly year-to-date figures that include only single-family-homes in the Huntsville metro area of Madison County. We do not include condos, mobile homes, or homes with farm acreage as these may skew the numbers of primary interest to our readers.
To keep our reporting of added value to our readers, we do not report market statistics from month to month, because they are prone to wide swings of seasonal ups and downs and can often cause more confusion than be of assistance. Besides all of the other local market reports available to the public are already generally focused on these monthly gyrations.
Huntsville Home Sales
Huntsville home sales are continuing on the positive trend we have reported for the past 3 years. Home sales for the 3rd quarter were 1427 units and when compared to the 1228 transactions of the same quarter of 2012 indicating a positive increase of 6.4% year-over-year. While not the 13% Sept monthly increase widely being reported, it is a good trend in the right direction.
When we sanitize our analysis even further, by comparing year-to-date figures from the last 2 years we find that 2013 has thus far exceed 2012 performance by ~10%, which is a great growth trend we hope continues into the next year.
Nonetheless it would be lackadaisical not to further put these numbers within the context of the last few years, which includes the pre-housing crisis peak years of 2006-2007, the great recession years of 2008/2009, as well as the home buyer tax credit supported year of 2010. The chart above illustrates our current market statistics within this important context. When doing so we see that the current Huntsville Real Estate Market is smaller than the pre-housing crisis market by -20%; nevertheless the current upward trend is a strong one and heading in the right direction.
Huntsville Real Estate Inventory
The home inventory average for the 3rd quarter rose 2.6% from 2012′s average inventory of 3697 units, to 2013′s average 3rd quarter inventory of 3795 homes for sale.
However months of supply, a more informative inventory metric as the ratio of inventory / sales, improved from 9.1 months in 2012 to 8.0 months of supply for the quarter in 2013. Typically a monthly supply of 6 – 8 months is considered a balanced market that favors neither buyer or seller.
Moreover this is the first quarter since 2008 that we have witnessed an actual statistical move from buyer to balanced market. The following chart sanitizes these inventory figures further by comparing year-to-date figures going back 5 years.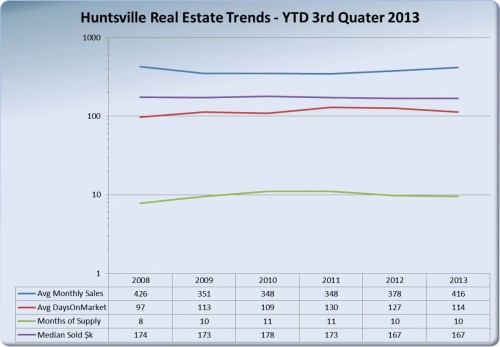 Huntsville Home Prices
Median home prices are the most controversial of all the statistics we report on. They can swing wildly from month to month due to a number of different factors. E.g., the recent monthly report from the University of Alabama reports a 9.8% increase in prices for the month of Sept. We were certainly delighted to view the Huntsville Times report clarify this by the following disclaimer:
Pricing can fluctuate from month-to-month as the sample size of data (closed transactions) is subject to seasonal buying patterns so a broader lens as to pricing trends is appropriate.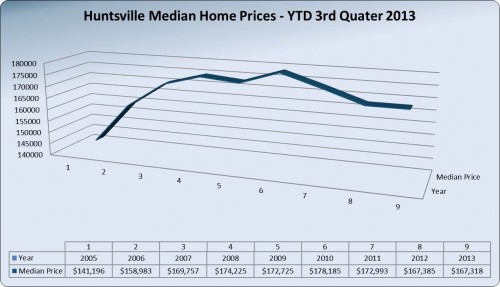 Huntsville median homes prices increased 1.6% when comparing the average 3rd quarter price of 2013 ($175,106) with the same quarter of 2012 ($172,297), yes a far cry from the monthly gyration of 9.8%. Furthermore as can be seen by the above year-to-date median home price chart above, Huntsville median home prices have basically remained flat during 2013 after declining ~4% from 2008-2011 levels in 2012.
Your Short List or Selling Your Home?
It is also important to note that broad market conditions may not accurately reflect the fair market price of a specific home on your buyer short list or the home you wish to sell. Attributes like neighborhood, hoa, school zone, and others can greatly vary prices from neighborhood to neighborhood.
Thus if you're considering buying or selling in the Huntsville market, let us help you make an informed decision (256) 425-1659 Elizabeth@athomesrealty.com .
- Elizabeth