What Real Estate Bubble?
Huntsville lagging the nation, is a real estate market trend we have been watching closely for many years and it remained true-to-form, through the most recent national housing bubble and economic recession.
As national home sales and prices peaked in late 2005 with some areas seeing 25% year-over-year price gains, and started their decline through 2006 and 2007; …the Huntsville real estate market continued its moderate growth in sales and appreciation of values as if the housing bubble didn't exist.  See the Timeline of US Housing Bubbles.
Makes sense if really think about it, because we never experienced a 'bubble', we didn't experience the bubble's sales growth percentage or much less the appreciation of bubble pricing. We just trucked along oblivious to all the crazies.

The Great Recession on the Other Hand!
Bubbles are one thing, but few parts of the country can hide from a recession; and regardless of local conditions  nowhere was safe when it came to the near collapse of our financial system in 2008, now widely being coined as 'The Great Recession'.
The following chart compares mid-year Huntsville home sales for the past 9 years. Unlike much of the nation, Huntsville's housing market did not begin to experience the financial crisis until the later half of 2008. Nonetheless from a peak of 3045 homes sold for the same period in 2007 through the recession's end in 2009; the Huntsville housing market saw a decline in home sales of ~35% while median home prices remained basically flat.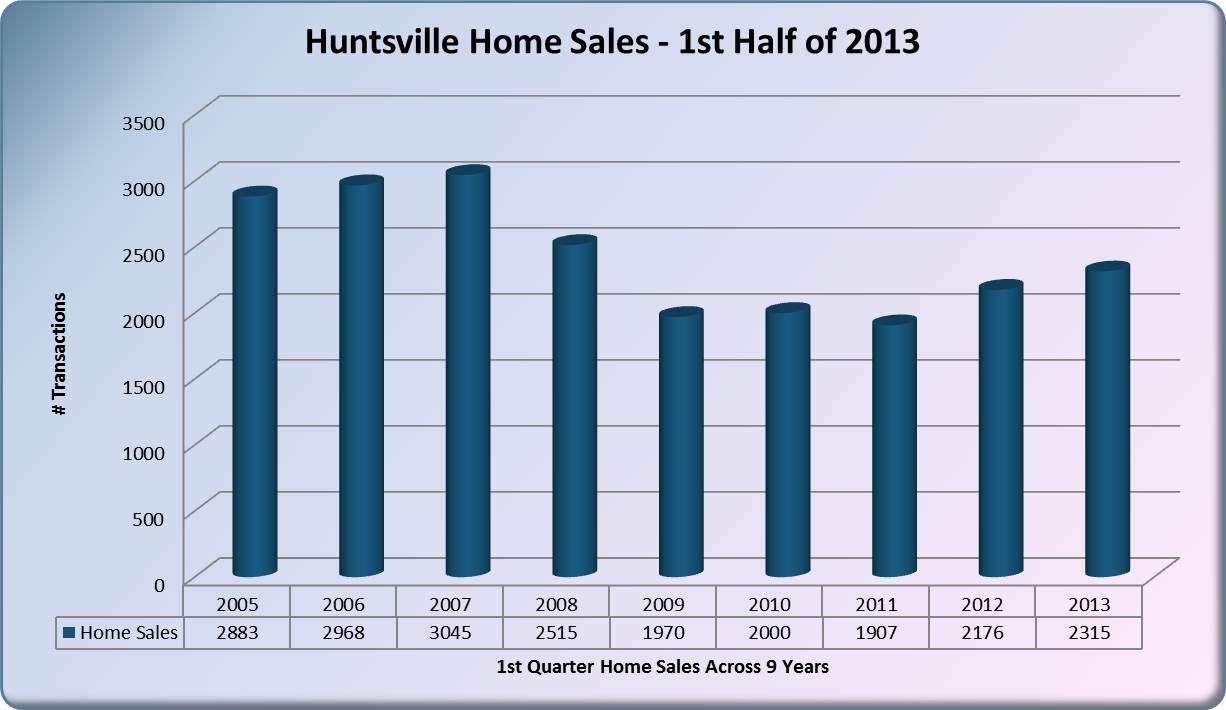 A Slow but Steady Recovery
In official GDP terms the Great Recession lasted 1.5 years beginning in December of 2007 and ended in June 2009. Since that time we have a experienced a slow and steady recover in the local housing market including the 1st half of 2013; where we have seen an increase of  ~18% in home purchases when compared to the same period of 2009.
Slow and steady in the right direction is a good thing, but its just that; slow and steady. Comparing 2013 with 2008 in the above chart reveals, that despite the slow and steady growth of the last 3 years we have not yet recovered to 2008 levels of home sales. Nonetheless the trend is your friend, the old saying goes.
Watching the National Headlines
The housing market heats up, and its just getting started, bubble metro areas are bubble-like again, price appreciations in double digits, and inventory is low and in some locations even scarce. Here we go again? …but wait a minute …Huntsville lags the nation.
Despite the many anecdotal claims of local Realtors® that the Huntsville market is booming and a Sellers Market has arrived, that facts simply don't support such a proposition.  In the charts below we see a current inventory of 10 months of supply, which is more than adequate and likely favors buyers. Moreover Huntsville median home prices are not appreciating, in fact, the median home price in Huntsville has moderately declined the last 2 years as many local news articles have reported.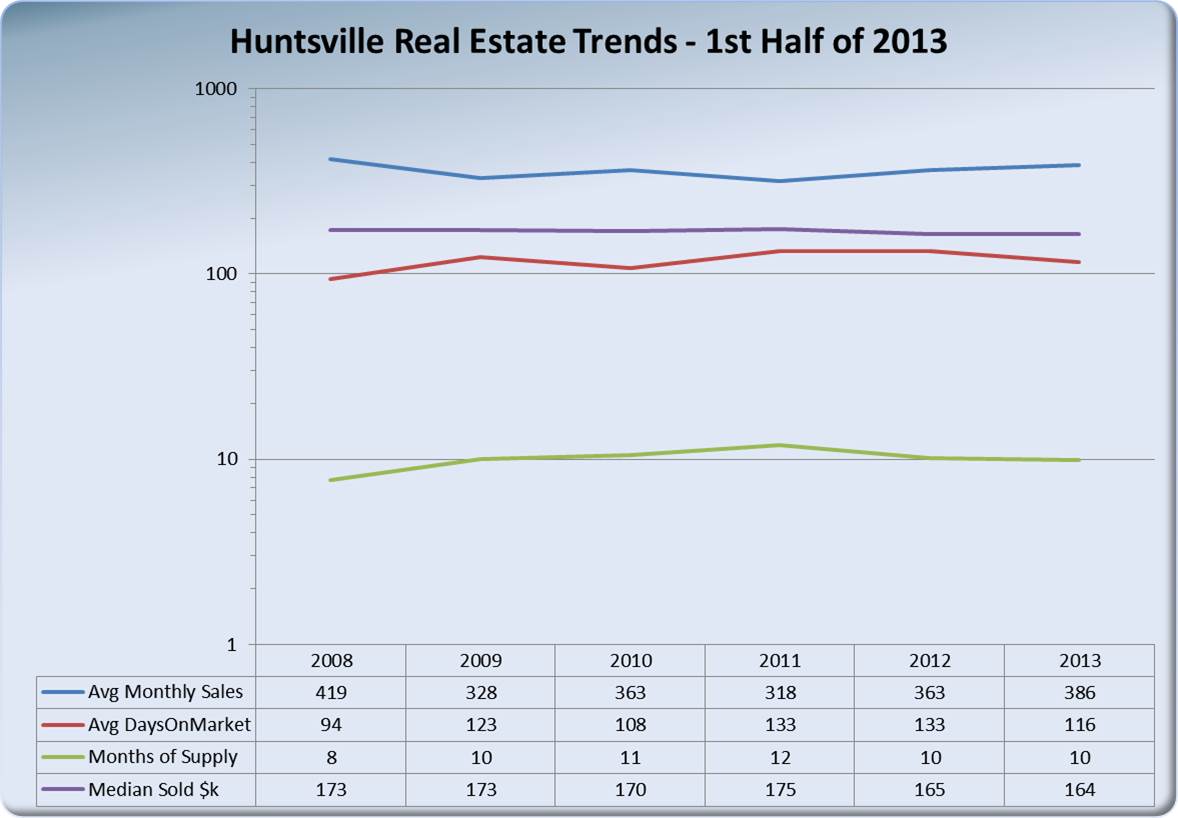 Huntsville Median Home Prices
The following chart tracks median home prices over the same time period for the last 9 years. It shows an overall price decline of ~5.4% over 2012 and 2013. We think the best explanation of what is happening in the local Huntsville market was recently described by the research firm CoreLogic:
"Homes in the foreclosure process continue to be a drag on home prices in Huntsville. House prices, based on data through February, continue to decline, but at a decreasing rate," Mark Fleming, chief economist for CoreLogic, said in a statement. "The deceleration in the pace of decline is a first step toward ultimately growing again."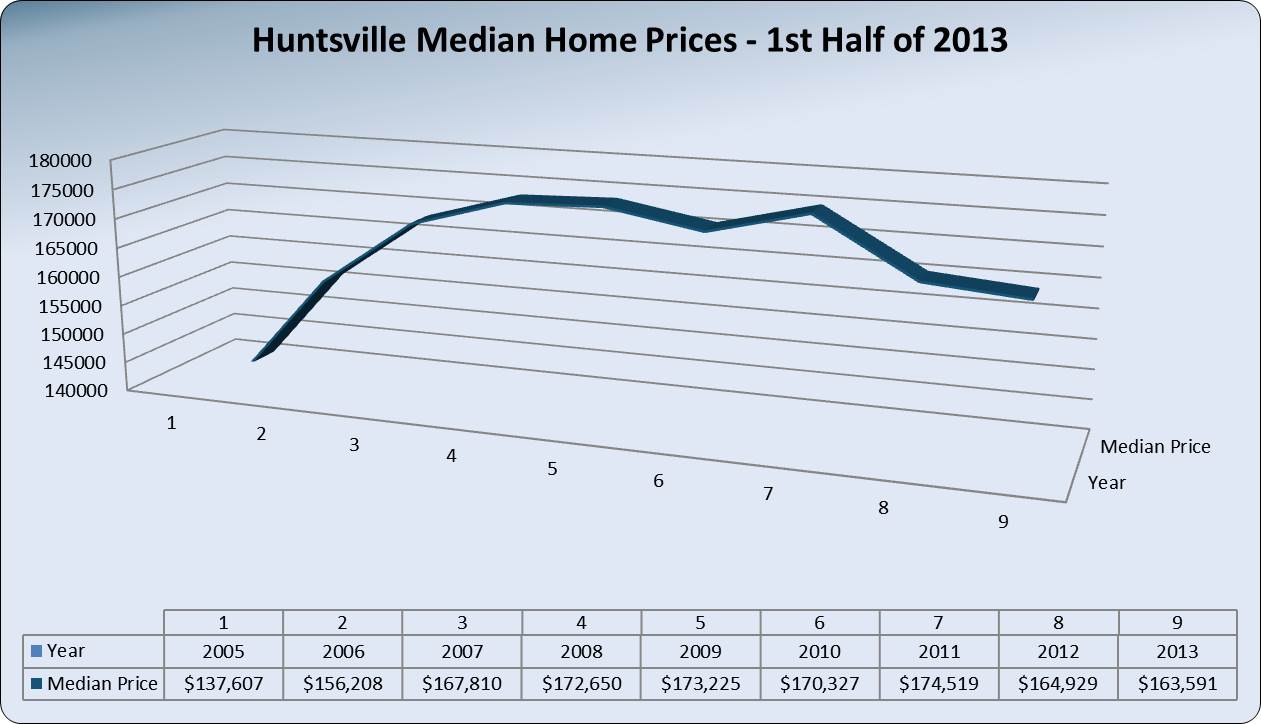 If Huntsville Lags the Nation?
We should see the local foreclosure inventory continue to thin with a return to moderate median home price appreciation in 2014 and 2015. Nevertheless there is one area that dramatically affects the housing market that is immediately felt locally, and that is mortgage interest rates.
Mortgage interest rates have recently risen and expectations are they will continue their moderate increase as the economy continues its recovery. Thus in conclusion; it's not a good time to buy real estate because the market is heating up and you'll miss out on great gains if you're not in the market It is however a good time to buy because prices are down with potential future appreciation possible and interest rates remain historically low but are heading north.
If you're considering buying or selling in the Huntsville market, let us help you make an informed decision (256) 425-1659 Elizabeth@athomesrealty.com ; only fools rush in.
- Elizabeth