One way to add value to your home is to update different rooms that may need a new look or feel. Sometimes, a simple touch of paint or a modern lighting fixture is all it takes to breathe new life into an old room.
A worthwhile and usually easy update is your bathroom. In fact, many local hardware stores have workshops that will help guide you along in updating your bathroom on your own. These are great resources for DIYers who may need additional guidance and support.
Keep in mind that you don't have to rush to complete an update. Feel free to move at your own pace to ensure that everything is done correctly, and looks great! Here are some quick and easy ways to liven up your bathroom that are sure to impress not only your friends and family, but any potential buyers who may come through:
Add a calming, soothing color – like a light blue or light green, or even a subtle shade of beige – to the bathroom so that it makes you feel welcome and relaxed. Think about going into a spa, and what colors/textures you might find there. A new color can be added by painting the walls, adding wall paper or by putting colorful hand towels throughout the bathroom.
Space is always a big factor in updating a bathroom, so figure out ways to utilize what you have to make it more useful. Add a shelf rack that has hooks below to create a space to hang towels. Try adding pullout shelves to your cabinetry to keep everything in order that otherwise tends to get lost in the shuffle.
Add shower fixtures rather than just a simple shower head. If you choose the correct fixtures, you'll have a fresh look while also modernizing your bathroom.
Look around your storage area or the other rooms in your house to see if anything can be used as a storage space for toilet paper, makeup, towels or hair dryers. A basket that might be in storage could be a new home for used towels, laundry or even toilet paper.
Installing a new cabinet immediately adds a new and fresh look to the bathroom. Make sure that you get one that fits your bathroom and doesn't overdo it. This will allow for less clutter on the counter-tops and make the room look "cleaner".
Adding a mirror that has a nice, modern trim to it will give the room a "larger" feel. The mirror will reflect light and space, offering a more welcoming feel.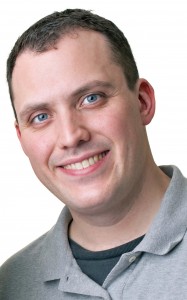 About the Author: Doug Chapman is a staff writer for HomeDaddys, a stay-at-home dad blog. He specializes in diapers and Sippy cups by day, but is a successful real estate investor by night.