Huntsville Housing Market Q1Fy13
Huntsville Home Sales
The Trend is Your Friend, an old investment adage reminds us; and when it comes to the Huntsville Housing Market for the first quarter of 2013, this old saying is very fitting indeed!
Huntsville home sales were up 9.6% for the first quarter of 2013, when compared to the same quarter of 2012, as illustrated in the chart below.
This is in our minds, a good way to start the year off with a bang. Nonetheless, 'a single quarter' does not 'a year' make and as usual; The news, while mostly good, is not all good. Depending on what side of the market you are on; buying or selling.
Nevertheless from a home sales transaction basis, we have had growth in the 1st quarter for the last 3 years running, and while still not returning to the peak years of 2006-2007 before the onset of the housing crisis, it is a good trend and in the right direction.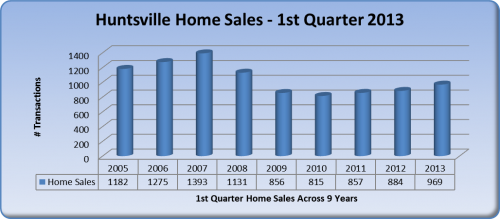 Huntsville Home Prices
Some not so encouraging news, if you're on the selling-side of the market, is that, unlike the recently broadcasted national statistics, Huntsville home prices have weakened a bit over the last couple of years.
The annual Median Huntsville Home Price in 2011 was down ~1.1% from the previous year, 2012 median home prices were down ~1.7% from 2011, and while we only have partial figures for 2013 the chart below indicates that this trend may be continuing as well.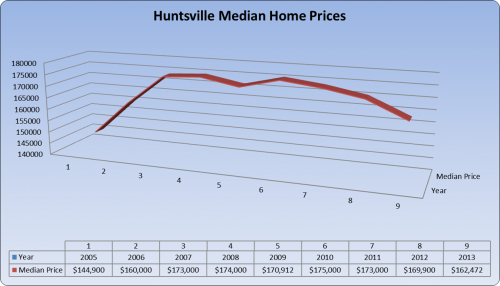 A Shift from a Buyers to Sellers Market?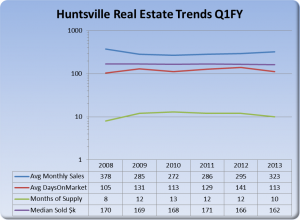 In the chart to the left [click to enlarge], more good news comes to our attention.
Contiguous days-on-market have declined from 2010-2012 levels 0f ~130 – 140 days, to 113 days for the quarter just ending,  thus homes are selling a bit faster than they have in recent years.
Additionally months of supply inventory, also known as absorption rates, have come down from 12 – 13 months of first quarter supply; to 10 months of inventory for the 1st quarter of 2013. Another good trend in the right direction.
Does this good news make a seller's market?
Hardly! …In an ideal seller's market we will have homes sales, prices, and inventory trending in the direction of sellers and thus moving away from buyers. Such in not the case in the current Huntsville market:
Home Sales Trending Upward – Advantage Seller
Home Prices Trending Downward – Advantage Buyer
Inventory Greater than 8 Months – Advantage Buyer
Overall – Advantage Buyer
It is important to note that our overall market analysis here is applied across the entire Madison county market and across all price ranges. The real estate market is about location, location, location; thus the market can vary greatly depending on the locations and price ranges of interest.
If you would like more detailed information regarding your own home or an area and price range of special interest, please don't hesitate to give me a call 256-425-1659 or drop me an email with your information.
– Elizabeth