There has to be a Main Street in every town in the country, when years ago there was a post office and a hardware store and of course in county seats a court house on the square. There also use to be grocery stores, barber shops,  and the world famous Woolworth general store as well. In modern times however these have often been replaced by law firms sounding the court house.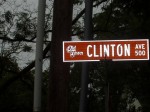 The Historic District in Huntsville has 3 defined areas, Twickenham, Old Town, and Five Points and each area has a distinct street sign so you always know where you are. Twickenham street signs have a tree symbol, Old Town signs all have the name Old Town on them, and Five Points signs use a star symbol and on the south side of the modern day square you will find Harrison Brothers hardware dating back to 1879.
The historic home style remains quite popular in the Huntsville area and in addition to homes in the Historic District there are several neo-traditional neighborhoods where new historically styled homes are plentiful and available as demonstrated in the following links.
The charm and beauty of this old town is still there.  As we go about our daily routine and busy schedules, we pass right by a relic from our past without realizing its significance. All we have to do, is stop for a moment and take in the view.
Want a personal tour of the Historic Areas of Huntsville and Madison? Why not drop me an email or give me a call 256-425-1659and we'll make it happen.
– Elizabeth