Needle in a Haystack
Do you have time to search for a needle in a haystack? Neither do we!
Our site offers a comprehensive, user friendly search of all properties listed for sale in the Huntsville area MLS.  You can search by approximate age of a home, minimum square footage, number of parking spaces…etc. (You know, the odds and ends of what makes a home perfect for your lifestyle.) And of course, we have more classic search options including: zip code, school zones, price requirements, and number of bedrooms and bathrooms.
Instant and Interactive Search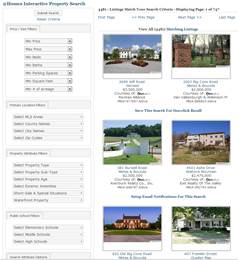 @Homes Realty Group was the first to bring 'Instant Interactive Real Estate Search' to the Huntsville area. As you fill out your search criteria, your search begins simultaneous in the background updating your selected listings as you type and you can browse your selected listings as you apply additional filters.
By time you have completed your criteria your search is already complete and you can browse and view listing detail. …But don't fret you won't have to type in this search criteria again you can simply 'Save The Search' for later one-click recall and your off again on your home search.
Don't want to keep coming to the site and searching? No problem no matter the details or complexity of your criteria you can setup automated email notification for just those New Listing coming on the market that Exactly Meet Your Criteria. We can also send you tips, tricks, and apps to enhance your Huntsville home hunt "on the go" via email!
Looking for Deals
You can also find a great deal on a home in Huntsville by utilizing our "Just Reduced", "Foreclosure" and "Short Sale" search features. Feel free to get as specific with your search criteria as you like. If it's out there – we'll find it!
Professional Assistance Agent/Advisor
We do realize, however, that finding your perfect home in Huntsville or Madison is more than a calculation of square footage, bedrooms, and list price. Most home seekers want to go beyond those four walls, learning about the surrounding neighborhoods and community. That's why no Huntsville home search would be complete without a competent Agent/Advisor on your side. Our @Homes Agents are neighborhood experts specializing in areas where they live and work.
Searching for a home can be scary and exciting at the same time. Let @Homes Huntsville turn your "needle in a haystack" home search into a one of a kind consumer experience. We're ready to take the stress and worry out of house hunting, to help you feel @Home in Huntsville!