Short Sale Short Sale – What's it all about?
Huntsville Real Estate Short Sales are all the rave these days. Whether in the market as a buyer or seller, everyone, these days,  is interested in understanding and examining how a Short Sale may benefit them.
Yes sometimes, when circumstances merit, a Short Sale may be beneficial to both buyer and seller; however more often heading into a short sale unprepared and not understanding the ins-and-outs of such a transaction, can cause much unwanted heart ache and unforeseen consequences.
What is a Short Sale?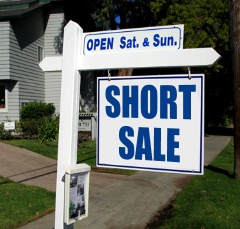 A short sale is when a home or property is sold for less than what is owed the lender. Thus here is where the trouble can begin;  the lender must approve the sale and be willing to release the lien for less money than is actually owed.
A short sale may or may not solve some financial problems the seller is having. However it may also create new problems as well. Short sales are not the "silver bullet" that some home sellers would like to have.
The big point to remember here is that a Short Sale transaction is a 3-way transaction and is different than a normal real estate transaction. In a short sale situation the lender and seller must come to terms with the difference in what is owed on the property and what it is sold for. At times the bank may be willing to take a loss on a property if it expects to take a greater loss foreclosing on the home in the near future. Also at times the seller and lender may be willing to settle the out standing debt at a discount.
Caution Revolves Around Lender Approval
For Home Sellers
Your home must qualify for a Short Sale and while lenders have standards they can vary between financial institutions. In general 4 areas of qualification must be met by the home owner attempting a Short Sale as follows:
Local Home Prices Have Dropped
Your Mortgage is Near Default
Your Financial Situation has Degraded
You Have Limited Assets to Cover the Difference
As a home owner in a pre-foreclosure situation you will have to provide evidence of the above points to your lender to get approval for your short sale. Utilizing your real estate agent, CPA, and attorney can go along way in obtaining this approval. Often times a short sale option if available is better for your credit rating than bankruptcy or foreclosure.
For Home Buyers
It is important for your real estate agent to verify lender approval status before spending too much time exploring a short sale transaction. Often times a short sale status comment or listing attribute does not necessarily mean that the approval process has been completed. Perhaps it has begun but the lender is waiting on additional qualification documentation.
It is not uncommon for some short sales to take a number of months to close as the lending institution works with and negotiates with the seller the final short sale terms. So as a buyer patience may well be a required virtue.
In any case whether buyer or seller, the Short Sale Pre-Foreclosure process is served well by a knowledgeable real estate professional experienced or even specializing in these types of transactions. So don't hesitate to email me or give me call directly 256-425-1659.
– Elizabeth