September 2012 – A Down Month
September was a weak month for the Huntsville Housing Market. Sales were down ~16% when compared to September 2011 and the month's median home price was moderately down while inventory figures were up. With the 2012-2013 school year now officially underway we expect the Huntsville Real Estate Market to seasonally slow for the rest of the year, thus September's market results were not completely surprising.
September Year-To-Date – A Different Story
The September year-over-year chart below shows that not only did September mark a year-to-date outpacing of 2011, but it also outpaced the 3 previous years and that is certainly a good thing. 2012 is certainly shaping up to be a growth year in Home Sales perhaps marking the overall market turn around we have been waiting for.
Year-To-Date Huntsville Home Sales Comparison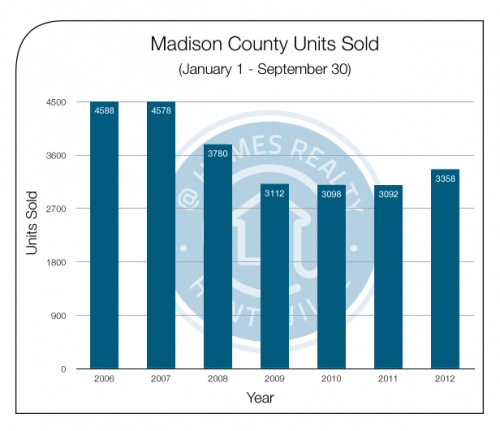 Huntsville Median Home Prices
While Huntsville Home Prices have held up much better than many parts of the country, within the past 2 years we have experienced moderate declines in Huntsville 's median home prices. Looking at the year to date chart below we see a ~3% decline when comparing 2012 with 2011 and a ~4.5% decline from the market peak price over the last 6 years.
It is also important to note that the time it takes to sell a home, i.e. Days On Market, has also increased over the last few years from an average of 70 days to 94 days.
Year Over Year Huntsville Median Home Prices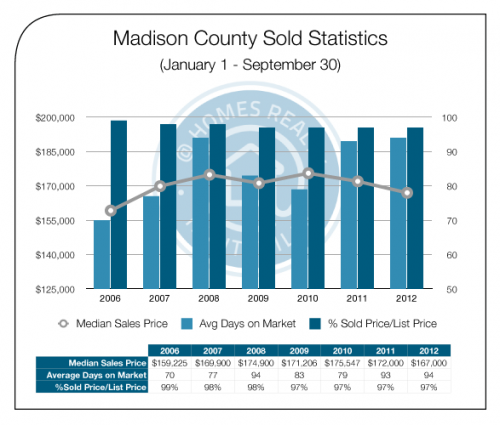 Nonetheless, the outlook for a recovery of the housing market is a good one looking-out the next 12 – 18 months given interest rates, adequate inventory, and favorable pricing; especially if the economy also continues its moderate recovery.
If you would like more in-depth data on the Huntsville real estate market or surrounding areas, we will be happy to provide that information.  Just give us a call, hit the "contact me" button or drop us an email. @Homes Realty Group strives to be your trusted advisory.  Our mission is to earn your trust throughout your experience, ensuring that you live where you love.
- Elizabeth