August 2012 a Good Month
August was a good month for the Huntsville Housing Market. Sales were up ~12% over last August while the month's median home price was also up and inventory down. It is hard to argue with such results, looking at a single month's performance; August was indeed a good one for Huntsville Real Estate in general.
The August year-over-year chart below shows that not only did August outpace 2011, but it also outpaced the 3 previous years and that is certainly a good thing; given the financial recession that has afflicted our entire nation over the same time period.  However a single month of housing statistics does not a market make, we need to take a closer look at other longer-term data to get a feel for where we are and where we are headed.
Huntsville Housing – August 2012 in a Nutshell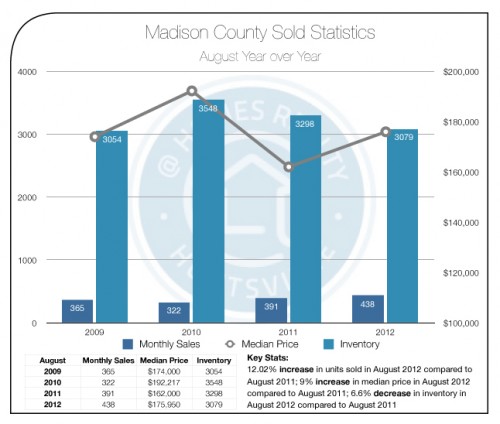 Year to Date August 2012
Another longer-term view point of where we are in today's Huntsville Housing Market is to take a close look at home sales year-to-date and compare this with the past 6 years in an apples-to-apples manner. The chart of unit home sales in our local market, below, does just that and it is a bit revealing.
The good news is that 2012 is shaping up to be a good improvement over the last  3 years, with unit home sales out performing the previous 3 years by ~10% on average. Thus 2012 could be marking, not only that a bottom may have been formed in the local Huntsville Housing Market, but we may also be experiencing a turn-around year in home sales, and this is a good thing for home owners and Realtors® alike.
Year to Date Huntsville Home Sales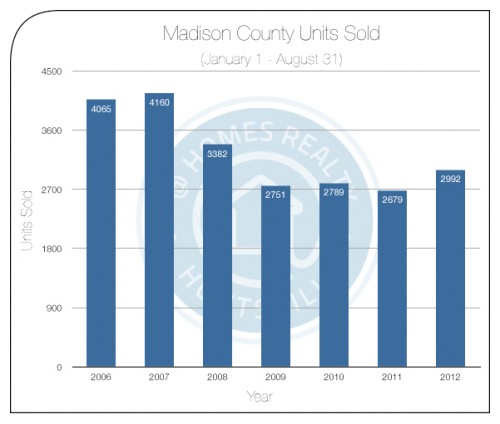 Not All Good News … But Is It That Bad?
The local median home price has seen some stress this year, median home prices are down ~5.8% when compared to the last few years. However don't read too much into this metric, as Huntsville Real Estate still remains very sensitive to Location, Location, Location. While some neighborhoods have experienced a loss in value greater than the average, still other neighborhoods have held steady, and some have been gaining in value.
In the chart below, I have mapped the Median Sales Price and Days-on-Market, during the 1st 8 months of 2006-2012. Huntsville Median Home Prices has declined some -5% when compared with previous years and are currently at 2006-2007 levels and Days-on-Market (the avg time it takes to sell a home) has risen to 94 days, both positive indicators for current home buyers.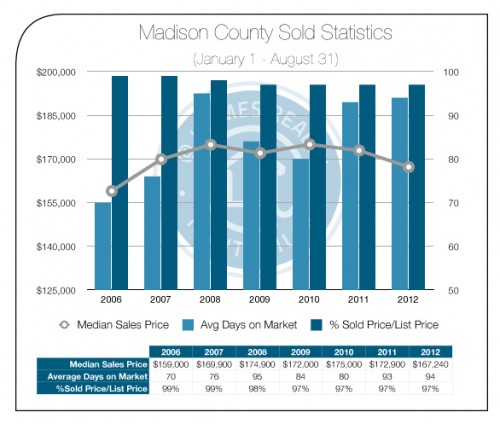 QE3 – Wht it Means For Real Estate?
The outlook for a recovery of the housing market is a good one looking-out the next 12 – 18 months given the Quantitative  Easing (QE3)  policies announced yesterday.
The Federal Reserve Bank (i.e., the Fed) , yesterday announced its intentions to buy ~$40 billion dollars in mortgage backed securities over the coming months in an attempt to lower long-term mortgage interest rates even further from their current historic lows.
Thus 3.10 – 3.25% mortgage interest rates are not a ridiculous assumption  over the next year or two given this move by the Federal Reserve. Within minutes of this announcement stocks of major nation wide home builders headed north given these expectations.
If you would like more in-depth data on the Huntsville real estate market or surrounding areas, we will be happy to provide that information.  Just give us a call, hit the "contact me" button or drop us an email. @Homes Realty Group strives to be your trusted advisory.  Our mission is to earn your trust throughout your experience, ensuring that you live where you love.
– Elizabeth