Holiday Season Ahead
It just seems like yesterday that @Homes Realty Group celebrated our first holiday season together. Time really does fly when you are having fun!
Being in the Real Estate Business for 15 years and relocating 3 times during my career was the greatest opportunity for me as a business owner. I had the blessing of working with some of the greatest companies, with true leaders that actually LEAD us. Leaders that believed in giving back to the communities in which we worked, lived and played in. That's the way it should be. I believe in Karma and thrive in giving surroundings.
Upon opening our company, Tim and I made the commitment to give back to our wonderful community that has been so supportive of @ Homes Realty Group. And give back we do! We are just off the heals of sponsoring and volunteering for the first annual Make A Wish "Run For Wishes" that was a huge success. It's hard to believe the holiday season is here.
Giving Back is Where its At!
2010 Christmas
All of our agents have giving hearts and for that I am so very grateful. Last year we decided to adopt families that were less fortunate. We were bound and determined to make the holiday season a bit better for those that needed lifting up. Our adopted families came from all walks of life and all had one thing in common. They needed us. To see the smiles on their children's faces and the twinkle in their eyes reminded us all just how important our promise to give back is.
The family I adopted was a single mother of 3 young children. She was a mother that was grieving what every parent fears most, the loss of a child. Her young son was ran over by a car. Between the hospital bills and funeral expenses, there was no money for Christmas presents. Her heart was broken. Her spirit was broken. Her children would go without. But they didn't. I made sure of that! I can't even begin to tell you what I felt when I saw the smile on her face when she picked up ALL of the toys, clothing and food that we purchased for her. We wept together, hugged and laughed together at the thought of her kids seeing what Santa had brought them! We still keep in touch….I made a difference in her life and she made a difference in mine. Isn't that what life is all about? I know it is!
We found our families through Christmas Charities Year Round, a Huntsville based organization that gives back year round. //www.christmascharitiesyearround.org/
Being a non-profit is an uphill battle when the economy is in the toilet. Donations are slim and fundraisers are tough! I know from experience. I can only imagine that this year they will have a much higher response from those in need. We are bound and determined to help this wonderful organization help our community.
Christmas Charities Year Round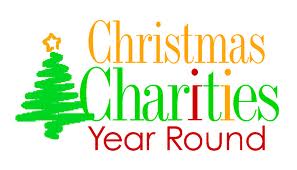 Christmas Charities Year Round
We plan on adopting families again this year from Christmas Charities Year Round and have also decided to kick it up a notch!
What a better way than to have a Facebook fundraiser….As a new company, we are always looking at ways to increase our fan base.
So, here we go! For EACH new fan that we gain between now and December 31st, we will be donating $1 to Christmas Charities Year Round. We gain 500 new fans, they get $500. We gain 3000 new fans, they get $3000. You get the picture

Help us help them. Fan away! Feel free to share our page with your friends. If you'd like to donate directly to Christmas Charities Year Round, click the image above and you will find a "DONATE" button on their website.
Our promise to you when you fan our page: We won't load you up with useless info day after day. We are a funky little site that hopes we are delivering a good mix of community related events, fun photos and of course, a few real estate related articles here and there. Hey…we even run a few great contests with great prizes,so come on over and give us a like! We hope you'll have fun with us while helping our wonderful community!
- Elizabeth