Seasonality Returns to the Market
As a Realtor®, I of course was a big fan of the Housing Tax-Credits of late 2009 and mid 2010. Nonetheless on the market statistics side of our business, these tax-credits virtually removed the normal seasonality of the Real Estate business, rendering 2010 almost useless for year-over-year comparisons.
However 2010 as whole is in the books and when looked at in its entirety does provide useful measurements of our markets recovery or lack there of. The best illustration I can provide of how the Huntsville Housing Market is weathering the storm of our country's current financial crisis is by the use of a 12 month moving average depicted in the chart below with a dark blue line.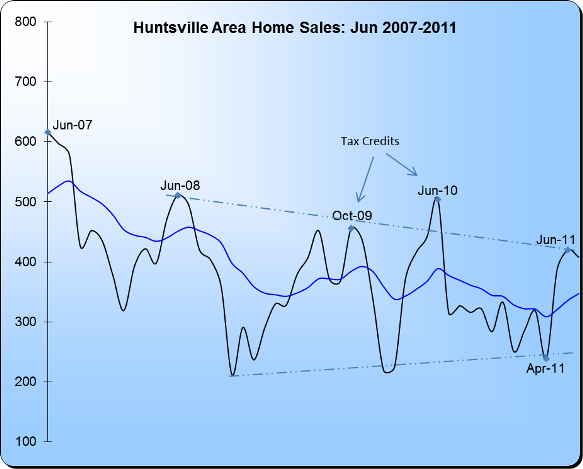 The Overall Picture – Not So Rosy – Yet Not Surprising
Lets 'call a spade a spade', the Huntsville Housing Market is a smaller market than only a few years ago (approx: -33% smaller).
Unit home sales in 2008 were lower than 2007, 2009 sales were lower than 2008, 2010 lower than 2009, and we estimate that 2011 sales will be only flat to slightly lower than 2010.
This is not a pretty picture of steadily rising home sales. The good news here is that most of the decline occurred in 2008 with only moderate to slight declines the past 3 years. Makes sense really, when a bubble busts or a market cashes most of the pain comes quickly almost immediately while several years of recovery lie ahead. Yet despite this observation 4 straight years of lower home sales (looks likely) does not an upward trend make.
To Spin is To Sin and The Good News
News of the month: "July 2011 Home sales up 24% over July 2010, Sales Steadily Increasing, Prices Hold Steady"
To compare July 2011 with July 2010 for any reliable indication of our market's sales trend, well its simply meaningless!  July 2010 saw a huge downturn in sales because savvy consumers accelerated their home purchase plans into June to take advantage of the Home Buyers Tax Credit.
The only steady sales increases are seasonal in nature and thus only go back a few months, however the real good news is that local home prices continue to hold, outperforming much of the country, and our market's internal performance is clearly stabilizing into what I will call:  'The New Normal'.
While it's too soon to say our local market is recovering, the worst may be over (heaven forbid a double-dip recession), volatility is narrowing, and we are entering into a much more seasonally predictable up-and-down business range.
Note the 2 dashed trend lines on the chart above, one trending the highs the other the lows. Throwing out the tax-credit volatility, a combination of lower highs (top trend line)  and higher lows (bottom trend line) forms a horizontal '>' shape which illustrates improving volatility and stability.
– Elizabeth