Woot – Woot!  What a difference a month can make, internally the Huntsville Housing Market has awakened from its deep autumn-winter slumber and buyers are out shopping in-mass. …Oh happy day!
January is consistently the slowest sales month of the year within the Huntsville Real Estate Market. …Thus its a good month to take a close look at, when gauging how the market is performing and where it may be headed;  …As expected, single family home sales within Madison County, declined from December's 333 sales, to 250 transactions within January; a decline of 25% (month-to-month), which is quite seasonally typical.
Market Improves Year-over-Year
The more positive news is the year-over-year comparison showing a 14%  increase in home sales over the 219 homes sold in Jan 2010, with the 250 units closed this past month. On the surface a very positive trend, but also one where its too early to really tell.
Why? …because last Jan 2010 was not a typical month, due to the tax-credit expiration of Nov 2009; This accelerated closings into the later part of 2009 and thus Jan 2010 is especially out-of-wack on the very low-side of seasonal norms, …so we expected this year-over-year increase as well, due to this fact.
Huntsville Home Sales – June 2007 thru Jan 2011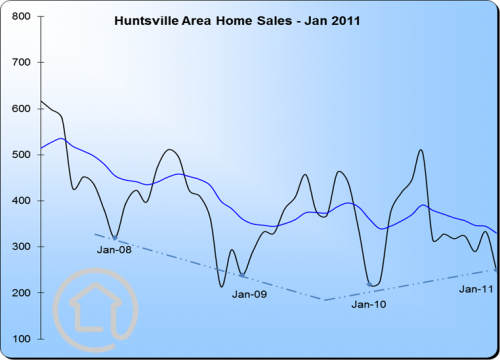 So Hey! …Where's the Bang!
The bang I'm discussing is not yet in the closed sales figures but in early leading predictive indicators such as pending contracts, the number of showings, and local Realtor® work loads. Yes this activity is anecdotal evidence and not yet sales revenues we can count,  but its indicative evidence nonetheless.  …An example
For a number of reasons, our own website traffic is a good indicator of local area buyer activity. Our slowest day of traffic in 2010 was Dec 25th, no surprise there, our busiest traffic day was Dec 28th and it has just rocketed-upward from there; a big surprise to say the least!
January 2011 set all time records in the number of visitors searching homes on our website;  45,155 unique visits, 25,981 organic search-engine clicks, and over 589,485 page views; by far the busiest month since hosting the website 3 years ago.
Moreover, our phone is ringing off the hook and it is not just isolated to @Homes Realty, all of the other agents and brokers I have talked to this past month (and there have been several) all tell the same story.  ….The bang is on!  …as always stay tuned, we will be sure to update you on the market's performance as the year rolls on.
– Elizabeth