Year in Review 2010
With another year now behind us, its the perfect opportunity to take a look at the Huntsville Housing Market from a big picture annual perspective.
Huntsville home sales totaled 4,085 transactions in 2010, down -7.6% from the previous year's (2009) performance of 4,423 home sales.  Nonetheless when viewing year-over-year performance from a revenue perspective, the decline from $868,375,562 in sales during 2009, to the $832,111,737  figure of 2010 is a much improved -4.2%.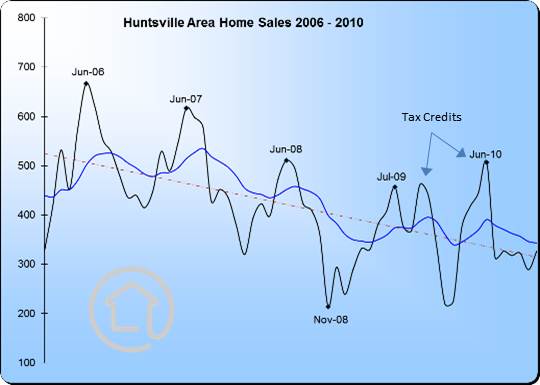 Huntsville Home Prices Remain Stable
The strength of the local housing market remains our price stability. Throughout the national housing crisis Huntsville Home Prices have remained basically flat and we have not experienced the major price declines that some overheated markets across the country have. However we also did not experience the same acceleration of prices as the housing bubble reached its peak. This is a testimony to the educational level and just plain common sense of our local community.
Tax-Credits Skew Local Median Home Price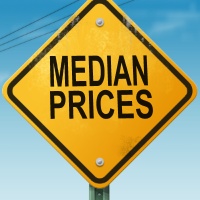 Don't be fooled by the widely published media spin that local home prices have risen during 2010, especially if you are a current buyer or seller in the market. Both 2009 and 2010 were Tax-Credit years, however there is a huge difference between them. The Tax-Credit of 2009 was for First Time Home Buyers Only and the next year opened qualification to All Home Owners.
While I remain a skeptic that the Tax-Credits actually expanded the number of home buyers in the market,  it seems clear that at a minimum it accelerated personal plans that were already in place. This brought  more first time home buyers (purchasers of lower priced homes) off the fence and into the market in 2009, while in 2010 existing home owners (purchasers of higher priced homes) were treated to the same incentive.
It really doesn't take a rocket scientist to understand what a median home price is and how such an averaging methodology will be skewed by the underlying market dynamics of the 2 proceeding Tax-Cuts.  …Enough said!
Considering Buying or Selling in This Market?
Why not call me personally 256-425-1659, tell me you read this article, and if you are not already working with a Realtor®, I would be more than happy to handle your transaction personally.
– Elizabeth