The Situation – A Study in Attitudes
I recently had a wonderful transaction with an amazing Realtor® in my area. From the day I showed her listing, I had my fingers crossed that my clients would choose 'THIS' helpful agent's listing. I also showed my buyers a home in the same neighborhood that was listed by …you know…the 'CRAB'.
From the moment I showed the crab's listing,  this agent was difficult.  Every question that I had was answered with a snide remark.  When I simply asked if she thought her sellers would allow a 60 day close, she snapped, 'Well why would they do that'?  I just reduced the sale price $10,000 and it will sell soon'…"so NO".  …Hmmmm, really?
The Saga Continued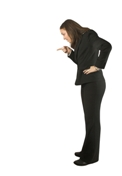 When I asked "What do the average utilities run here?" This agent barked back "It's really none of your business….make me an offer and I'll get that for you.  Until then, I'm not getting you any information".  …Gee, really?
When I later asked if I could please get a copy of the HOA documents, her reply was "Sure…COME GET THEM".  I asked her nicely to please scan and email them to me.  NOPE.  YOU COME GET THEM.  …What a pain in my butt!
I had only been gone 10 minutes from showing the crabs listing, when she called wanting feedback, knowing full well my clients were still with me. The hard sale was on, "Buyers are lining up, you know".  …Yeah, right …whatever!
My clients were with me for all of these conversations and they quickly made up their minds that this was not going to be an easy transaction, due to this agent's unwillingness to be helpful. In they end, they didn't want the hassle! Bet the home sellers would love to hear that!
All is Well that Ends Well
Long story short, this home eventually was rented, NOT sold as the slick agent predicted.  I'd bet her charming personality was part of the problem…it sure was for me and my clients!
The other agent was very in tune to what buyers expect from sellers in this trying market.  She jumped through hoops from the first showing, until the over-extended closing finally occurred. Always with a smile on her face and kindness in her heart.
I look forward to working further with this helpful agent on either side of a transaction. …While I will always put our clients interest ahead of personal tastes, I am not looking forward to working with the other agent anytime time soon …You know, …  The CRAB!
This was a great closing with buyers and sellers forming a friendship and me forming one as well with a GREAT helpful agent! I look forward to working with her again. 🙂
– Elizabeth