The Huntsville Housing Market while down some 36% from this year's high, established in June 2010, is hanging tough as the winter months approach and has remained relatively flat over the last 4 months (July – Oct).
While the year-over-year comparison of this October's home sales indicate a -28% decline over last year's performance, this comparison does not represent a true apples-to-apples evaluation, because Oct 2009 was special, in that it represents the expiration rush of the First Time Home Buyers Tax Credit of 2009. Thus last year's results reflect a non-seasonal aberration rather than a seasonal 'norm'.
Market's Performance within Seasonal Norms?
Well yes and no! If 'seasonal norms' mean that home sales are lower in the fall vs the summer, then yes the Huntsville market is performing within seasonal norms. However if this October is to be compared with previous Oct results over the last 4 years, then no our local market performance is clearly down some -30% from what was 'normal' in the recent past.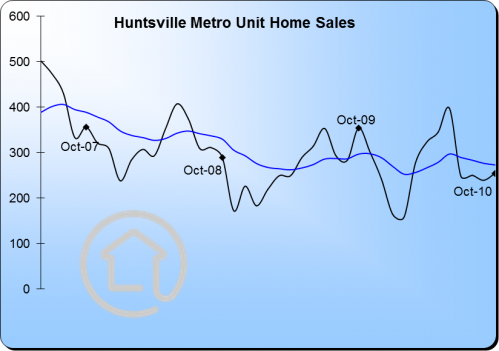 Higher Median Home Price – Much to do about Nothing!
Much of the local housing market spin, over the last few months, has promoted the fact that the Median Home Price has been moving higher when compared to last year, as if the higher median home price indicated that local home values were increasing. Let me assure you nothing could be further from the truth!
Given that the local Huntsville audience of readers are highly educated professionals, the definition of 'median' does not have to be elaborated to understand that all a higher median price means is that the price range mix of homes being sold has changed when compared to last year, that is all!


This is so simple it pains me to explain it, just note the chart above where you will note that the upper end price range mix stayed relatively the same, while sales of homes $150k and below dramatically decreased when compared to last year. Why?
The expiration of the First Time Home Buyer Tax Credit, that is why! Geez …the higher median home price is due simply to fewer lower priced homes being sold.  …Sometimes its just tough to standby with your mouth open and not say something.  …enough said!
– Elizabeth