If you were like me, you didn't quite know what to think when Google Instant went live and well just a short time ago. At first I didn't like all that bouncing about as I typed, and wasn't quite sure if there were any interesting tidbits in all those instant results. Nevertheless overtime it grew on me, as it likely has for all regular users of Google Search.
Of course a natural language search engine is a complex animal and we of course don't have warehouses of server farms to execute a multiple number of search techniques all simultaneously, just to filter the best weighted score output to your screen. …We'll just have to leave that to the big boys.

Try it: @Homes Instant Real Estate Search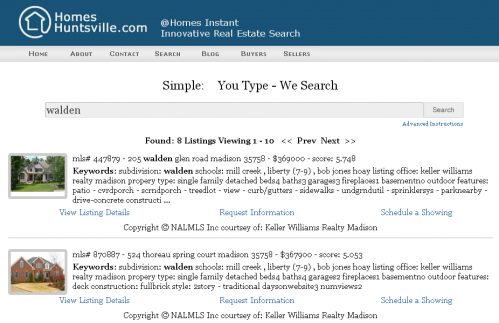 Nonetheless the longer I thought about it, it finally dawned on me that if Google was going to popularize Instant Search there was a unique niche using such a technique in searching real estate listings. You see real estate listings are a special breed; they are not like natural language documents, in that a lot of the same terms are used over and over within each and every listing. Moreover many of the terms that are ignored (as stop words) within default natural language search engines may be important within an instant real estate search mechanism. Thus we still have a ways to go in populating our full text search index with its proper real estate dictionary and stop words.
However what we currently have in an 'alpha state' is much more than simple pattern matching, its a powerful natural language search with phrase, wildcards, and power keys providing super quick access to explicit information. Real estate professionals and power searchers alike will love this new capability! Why not take it for a spin?
Your comments, suggestions, and feedback are certainly welcomed on this post!
Kind Regards – Tim
Note: Be sure to read the advanced instruction link.