While the home buyers tax-credit is now a distant dream of the past, there is still good news for many potential home buyers in the form of current mortgage rates. However current financing rates are not likely to remain this low for long, according to the Mortgage Bankers Association's economic forecast for 2011.
Just how low are we talking about here? Well a look at Huntsville's mortgage rates this past week ending 10/30/2010 revealed the following published rates from several local mortgage companies:
30yr Fixed Conventional:  3.87% with zero points
15yr Fixed Conventional:  3.25% with zero points
5yr Adjustable Rate Mortgage: as low as 2.5% with zero points
These rates can change daily, however they are easy to follow right here on our website. On our home page and in almost every side-bar you will find the following link that brings up today's local mortgage rates. The rates are updated every week-day, so stop by and check it anytime to view current mortgage rate offerings in the Huntsville area.
Today's Huntsville Mortgage Rates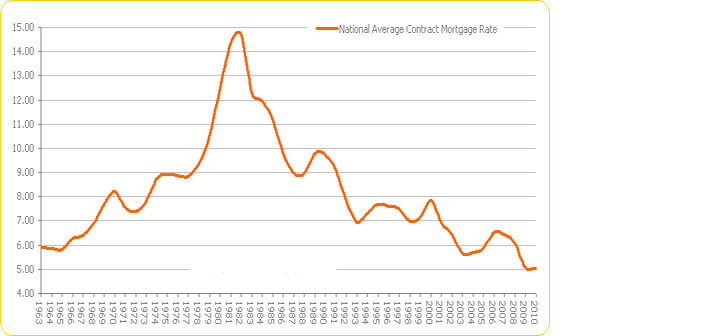 Historically speaking these rates are nothing to sneeze at; just take a look at the chart above showing average mortgages rates across the country from 1963 – 2010. Historic all time lows, certainly describes the current interest rate environment.
The payment difference per $100k of loan amount between current rates and the possible +5% rate projected by Mortgage Bankers Association's can mean up to $100 a month savings in your pocket.  Moreover the lower the rate you can qualify for the larger your potential mortgage amount.
I am not going to tell you 'Now is a good time to buy!' because that is a personal question that only you can answer …but I will share with you a dirty little secret many Realtors® don't often share; …homes prices generally dip slightly in the upcoming slower months of November – February.  So if you are already in the market for a new Huntsville home, be sure to take advantage of current interest rates and upcoming seasonal pricing.
If you need any assistance getting pre-qualified we would certainly be happy to assist in anyway possible, just drop me an email or give me a call 256-975-8402 and we will get things moving on the mortgage front.
– Kathy