What you say! …Mountains in Huntsville Alabama? Well I guess its a matter of perspective, as some would argue …ah …them there are just hills!
Regrettably in US geological circles there is no universal definition that distinguishes mountains from hills. However in the United Kingdom (UK), mountains are defined as at least 300 meters (984 ft) of vertical elevation.  Vertical elevation is measured from the valley floor to the mountain peak …and given this definition, Huntsville does indeed have a few local mountains, and they are locally named as such.
View: Huntsville Homes for Sale with Mountain Views
View: Map of Huntsville Homes with Mountain Views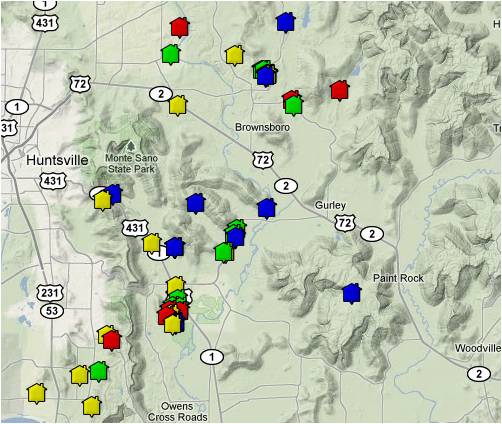 Monte Sano Mountain, (elevation 1,621 ft) just to the east of downtown Huntsville, is the most well known local mountain top and hosts, the Monte Sano State Park. The park has over 20 miles of hiking trails making it easy to escape the city and get back in the woods. Surrounding the mountain, a wide range of homes can be found in varying price ranges.
Huntsville Mountain, (elevation 1,562  ft), just to the south of Monte Sano is the host of The Ledges of Huntsville Mountain, a private gated community situated on the mountain peak with members enjoying one of the most challenging local golf courses: The Ledges County Club.
Green Mountain, (elevation 1,434 ft), further south of Huntsville Mountain is also a favorite of locals, as it is home to the Madison County Nature Trail. While the trail itself is an easy 1.5 miles around the lake, the scenery of the 72 acre park is truly wonderful and a must do family outing. If you are looking for a "challenging" trail, this is not the place, Monte Sano would be much more suited to your needs.
These 3 mountains are the biggies and form a mountainous ridge that dominates Huntsville's eastern skyline and the views at night from these peaks are spectacular. There are a few more mountains:  to the north Chapman Mountain (1,214ft) and Wade Mountain (1,493ft), further east is Keel Mountain(1,509 ft), and the only mountain within Madison city limits; Rainbow Mountain (1,125 ft).
Love living with those mountain views? …then there are plenty of choices, a snap shot this morning revealed 59 homes for sale tagged with the Mountain View keywords. You can explore them online using the links above and when you get ready for a close look at your short list, just drop me and email or give me a call 25-425-1659 and we will set up your own personal tour.
– Elizabeth