The Huntsville Housing Market within the metro area weakened in September. Declining -5.6% from August levels and -16.6% when comparing unit home sales year-over-year.
Looking at the following chart, the trend-line of home sales within the Huntsville metro area has steadily declined from a peak Sept sales figure of 381 units in 2006, to 236 closings reported in Sept 2010 representing a -38% decline since the national housing crisis began 4 years ago.
Despite whatever positive spins may be provided month to month, the fact remains that the local housing market is significantly smaller than it was only a few years ago. New lows in home sale volumes have also been established each winter over the last 3 years. Time will only tell if  the next few months will bring new record low homes sales to the Huntsville Real Estate Market but we will be watching closely.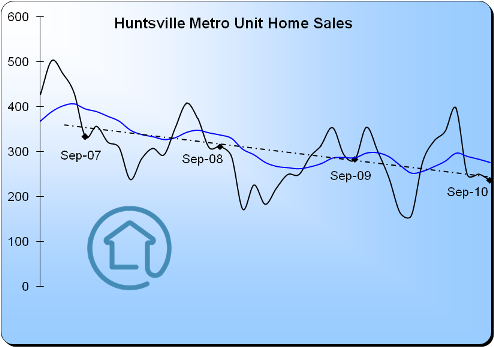 No one knows better about the consequences of such market conditions, than full-time real estate professionals who have not been gaining market share over the last few years. Thankfully we are a very small boutique firm that has doubled our local market share each of the last 3 years, however the challenge ahead is to effectively manage our growth while continuing to provide the best real estate consumer experience in the area.
Thus you will continue to see from us, new innovative ways to revolutionize the Huntsville Real Estate consumer experience.  Much like our announcement last month of our free localized Mobile Phone Search tool, believe you me, more is on the way.

In the chart above, home sale comparisons are broken down across price ranges. The one thing that stands out is that home sales under $250k declined, while home sales above $250k increased year-over-year. It doesn't take a rocket scientist to realize that last Sept-Nov was the expiration period of the First Time Home Buyers Tax credit, thus we expect this market mix will likely continue over the next couple of months.
Nevertheless the best way to keep up with our regular market reports is to Subscribe to our feed via an RSS Reader or Email for updates.
- Elizabeth