This was a long time coming but, I am pleased to announce Huntsville Real Estate's first ubiquitous Mobile Phone Application is now online and available FREE to the general public.  Yes, I realize 'ubiquitous' is a big word but please bare with me a moment.
What does Ubiquitous mean anyway?
Like 'location-location-location' is the mantra within the Real Estate Industry, the 'ubiquitous' mantra of the wireless industry is to service anyone, anywhere, and anytime. Thus while many within the Real Estate industry have focused on just the iPhone, we wanted to offer a broader solution for our clients, customers, and agents. After all, I surveyed the cell phone usage among the agents in the office and found:  iPhone, Droid-X, Blackberry, iPad, and Palm Pre. So obviously just an iPhone App wasn't the correct strategy even for the small number of people in our office.
Download 'the @App' Now
Text: ATHOMES To: 87778
iPhone, Android, Blackberry, Palm, etc – We have you covered!
The coverage we are talking about is across all service providers such as Version, AT&T, Sprint, T-Mobile, and others  …and across all browser capable Cell Phones (well lets keep it safe and say 90% – 95%).  …we are talking about lots of different cell phones.
Easy Installation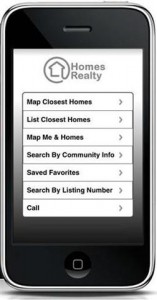 The install process can differ between phones but the download server is platform aware. Some of the apps are installed directly by the download server in an instant, while others may be directed to a partner page to complete the install (e.g., iTunes). In all cases the install is a simple one. Simply: Text: ATHOMES to: 87778.
The server then determines your installation and texts you back an install link. When you click the install link, the server will walk you through installing the proper application for your phone. Once installed, launch the @App by simply clicking on the Real Estate Search Icon on you phone's dashboard. It's as easy as that!
Dual Application
Believe it or not you actually get 2 applications in one to double your searching pleasure. For example, on the Droid main menu you can select either Homes for Sale or Sold Homes. One choice accesses the North Alabama MLS database for Homes for Sale. The other choice accesses the public record database of Onboard Infomatics for recently sold homes. …Pretty cool uh?
GPS Aware Location Based Services
Location based services are optional due to privacy concerns. When you first launch the map service, if your phone is GPS capable, you will be queried whether you want the @App to keep up with your location and provide location based services. For example you can search for Homes from you current location and the results are sorted by closest distance, your location is also shown on the map as illustrated below. There are different modes of location services and they can be toggled back and forth at anytime:
Tracking Mode – auto follows your location bringing in new homes within range
Pan & Search – you take control of the map and pan/zoom for new homes
Snap-Shot – Freeze the current view for fast pan/zoom but no new homes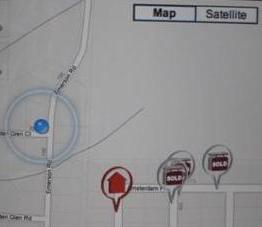 Gps Aware Location Based Services
Search From Your Location
Toggle Between List and Maps
Search Homes for Sale
Search Recently Sold Homes
Save Favorite Homes and Searches
Send Homes to Friends
Send the @App to your Friends
Why not download it and take for a spin. As is the case with any software, if you do encounter any issues with a feature not working correctly please drop me an email because I can't get it fixed without knowing the problem is there.
– Tim