It is with great pleasure that I am able to announce that Donna-Marie Chiroux has joined our team at the @Homes Realty Group. Really, I am so happy I could giggle.

Donna and I have been discussing the possibility of working together over the last several months and I am so grateful that things have worked out, together we are such a perfect fit!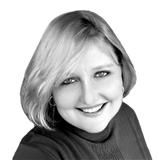 Donna-Marie brings a wealth of experience to the team including more than 30 years of Real Estate Marketing. For the past 9 years she has also published magazines in the Greater Huntsville area, most notably the Area's Best Homes and the N2NA: Into North Alabama relocation guide.  As a graphic designer, marketing specialist, and publisher she has had the privilege to work with some of the finest Realtors®, builders, and developers in the area.  She will be a great asset to the team!
On a Personal Note
Donna-Marie and husband Rob are a blue star military family.  Rob is former Navy and a Service Related Disabled Veteran. He now uses his PhD in Aerospace to support NASA and the US Army here in Huntsville. All three of their sons actively served in the Army or Navy and their son-in-law served in the Marines. Thus, it is not surprising that one of the ways Donna chooses to give back to her community is by supporting the Wounded Warriors Project.
Donna-Marie's answers to some frequently asked interview questions:
1) What one word best describes you? Answer:  Character
A few years ago my friend, Susan Ozment, paid me one of the highest compliments I can ever recall receiving. Susan called me a 'character'. I love that!!! I've been called many things in my 48 years: quirky, artsy, blonde, weird… you get the picture. All are probably accurate, but not exactly complimentary. The word 'character', however, thrilled my heart. To me it implies the perfect balance of quirkiness and seasoning. It says that I've lived long enough to understand that marching to your own beat isn't necessarily a bad thing. Yep! That's me!!
2) What is your greatest accomplishment? Answer:  My children
Seriously. That may sound like a blah, blah, blah, blah, standard answer, but it's true. My kids are the best of me. My two boys and the daughter Rob has shared with me are priceless. Nothing I ever have or will accomplish in this life can compare.
3) What do you consider your strengths? Answer:  My vision
I see possibilities. I recognize opportunities in our market that need to be realized — niches that need to be filled. I can read people and understand what they need even when they aren't quite sure themselves. That's why I love working with buyers. For me, matching people to houses is like hunting for treasure or working a puzzle. I'm addicted.
4) What is your greatest weakness? Answer:  I can't pack a suitcase.
No lie! My mother taught 'gifted' children in Florida for 26 years. Everyone has a learning disability of some sort no matter how high their IQ. No one is perfect (except possibly my husband). I have what is referred to as a 'spatial' issue. Can't pack a suitcase. Can't put clothes in a drawer in an intelligent manner. Can't put the dishes in the dishwasher unless someone shows me how to arrange them. It sounds like a little thing, but it's really quite annoying. Fortunately, my husband and my youngest son are exceptional packers.

5) What do you enjoy most when you're not working? Answer:  Cooking for my family.
I love to cook. It is my art. Yes, I'm a graphic designer by trade, but cooking feeds my soul.
6) What is your ultimate goal in life? Answer: To love my husband. To inspire my children. To be able to witness the wondrous evolution of my grandchildren.
And to have a really good time!!!
7) What is your guilty pleasure? Answer: I have three… reality TV, historic romance novels, and Internet puzzle games
8)What's the most embarrassing thing that's ever happened to you? Answer: Raccoon urine.
But that's a story for another time…

Join me in welcoming Donna-Marie to @Homes Realty!
- Elizabeth